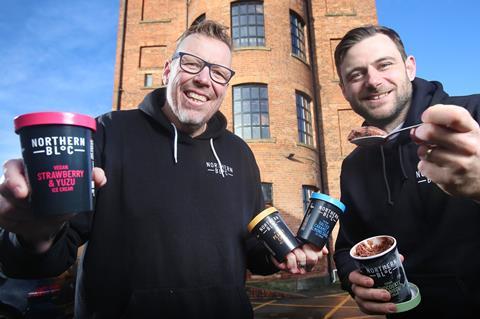 Ice cream brand Northern Bloc has netted a £1.5m investment from PE firm Mobeus Equity Partners to grow its plant-based ice cream offer.
The brand – which makes vegan and non-vegan ice cream – will use the funds to increase its production capacity, headcount and "focus on brand experience across retail and out of home" as it seeks to grow its plant-based business.
Northern Bloc said it had "ambitious expansion targets" for its vegan range, which is touted as using all-natural flavours with "no compromise on quality or taste".
The appetite for "sustainable eating" had "has jumped forward five years, in the space of just one", said the brand's founder Dirk Mischendahl.
"The result of our actions on the planet became very real in 2020, both in terms of the origin of the pandemic and the positive changes that were made to the environment during the global lockdown.
"Plant-based is no longer a dietary requirement, it's fast becoming a way of life and Northern Bloc is proud to be at the forefront of bold, innovative, amazing-tasting products which suit this revolution."
The brand is currently listed in Ocado, the Co-op, Waitrose and Morrisons.
Northern Bloc launched its first vegan ice creams – Salted Peanut & Chocolate, Hazelnut & Rose, Chocolate & Orange Blossom and Strawberry & Yuzu – in 2018 after two years of development, using rice milk in place of dairy.
It also launched what it claimed were the first-ever fully recyclable, biodegradable ice cream tubs across its range in 2019.
Moves like this have tempted investors repeatedly since its inception in 2014. In 2017, for instance, it bagged a six-figure bank funding package from Santander Business Banking to massively ramp up production.
In 2018, meanwhile, it raked in £473k from a Crowdcube drive, offering up 9.7% of its equity and valuing the business at £4.4m.