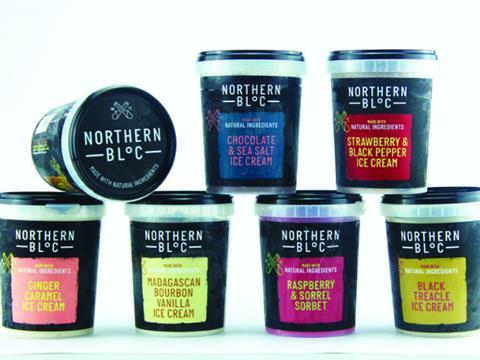 Leeds-headquartered ice cream start-up Northern Bloc is ramping up production and expanding its workforce after bagging a six-figure bank funding package.
Since launching its first ice cream from a vintage van at Leeds Trinity Kitchen in 2014, Northern Bloc has grown rapidly and is on course to generate turnover of more than £1m this year.
Its all-natural ice cream range of 500ml tubs debuted in more than 80 Co-op stores across the North of England in January. The business has since won listings with Waitrose and is set to start supplying Ocado shortly.
The funding from Santander Business Banking will enable Northern Bloc to continue its rapid growth, employ more staff and invest in new flavours and product varieties.
Director Josh Lee said the business also expected revenues to increase five-fold in the next 12 months.
"Innovation is at the heart of Northern Bloc, and experimenting with new flavours and products is key to our growth and development," he added.
"The funding from Santander has enabled us to invest for growth, and acquire the talent needed to make our ambitious plans a reality."
Andy King, relationship director at Santander Business Banking, said: "We're delighted to have been able to support the team at Northern Bloc. The ambition of the management and stakeholders is what has led the company from a small food van to a national ice cream manufacturer. Their passion for innovation and product development is what drives their business growth, and we look forward to seeing how they progress and what new and exciting flavours they come up with next."
Northern Bloc's range of all-natural ice creams include flavours such as raspberry & sorrel, strawberry & black pepper, chocolate & sea salt and hazelnut & tonka bean.
All the ingredients are responsibly sourced and fresh milk is delivered from a local farm and put into production within 12 hours of arriving at its manufacturing premises in the heart of Leeds.
The business also launched a Little Bloc variant with no refined sugar aimed at children.