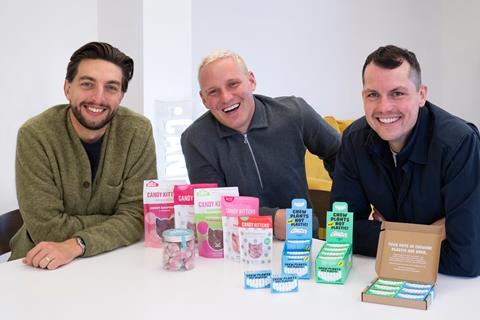 Plastic-free chewing gum brand Nuud has pulled in a £750k cash injection in a funding round led by the founders of Candy Kittens.
The confectionery challenger's founders Jamie Laing and Ed Williams led a funding round for the gum startup through Tuckshop London, the investment company they recently founded alongside sweets manufacturer Katjes.
Funds will be used to boost the brand's headcount, develop NPD, and increase brand awareness - as well as for working capital.
Laing and Williams had been "immediately impressed with the strength of the Nuud brand" and its "Chew Plants Not Plastic" campaign, said Nuud.
"Jamie and I were blown away with Keir [Carnie, founder] and the business – a brand that is taking on one of the biggest environmental issues in confectionery, with a product that tastes and looks great," said Williams.
The duo would be "utilising their expertise as leaders in plant based confectionery to help shape strategy and accelerate Nuud's growth", the brand added.
Carnie, who pitched the brand on Dragons' Den earlier this year – to no avail – said he was "over the moon" to have partnered with Laing and Williams. "It's such a huge opportunity to be able to learn from their success. This partnership will accelerate the growth of the business and our ability to solve the plastic gum problem for good."
Laing and Williams had "learned a lot in the last 10 years" and were "proud to offer a helping hand to young brands on a mission to disrupt the ugly incumbents domninating this old-fashioned industry", Laing added.
Nuud – whose gum is vegan and biodegradable – made its retail debut in the UK in early 2021 with a listing in Waitrose. It has since rolled into Morrisons and the Co-op.
It isn't the only ethical gum brand to have rake in serious cash from investors this year: October saw plastic-free Milliways land £1m from investors including Leon Amram, one of the owners of Intergum, which was sold to Cadbury Schweppes in 2007.