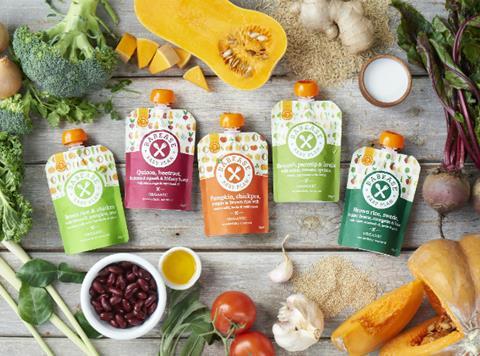 Two organic babyfood producers have secured multimillion-pound backing as fast-growing challenger brands continue to shake up the child nutrition sector.

Vegetable-led babyfood brand Babease has received a £5.1m funding injection to grow NPD and expand into new markets.
A key participant in the funding round was family office investor Amitis Partners, which has joined as a director to Babease's board.

As a result of the issue, Babease founder Tom Redwood's stake in the firm fell below 25%. He will, however, retain his role as CEO as he remains "committed to the company and its journey".

Meanwhile, days before the share issue, non-executive directors James Siracusa and Nikkos Frangos stepped down from the board to focus on other interests.

"We are delighted to have successfully completed our fundraise campaign," Babease stated to The Grocer.

"This new investment marks a new chapter in our exciting journey and allows us to invest in the development of further products and increase our portfolio, as well as reaching new markets."

A year ago, Babease had already received £1m of funding from Bibby Financial Services - part of the same group as Costcutter - to fund NPD.

It had also reached out to the crowd for £850k in July 2018 as part of a wider fundraise campaign to secure £3m total investment.

Launched in December 2015, Babease now has listings in all major retailers including Tesco, Waitrose and Ocado.

Meanwhile, fellow organic baby pouches producer Piccolo Foods raised a further £2.2m as part of its ongoing expansion drive.

The investment is understood to be part of a wider fundraising round, which is expected to complete in the autumn.

Piccolo - which is backed by high-profile investors such as former Pizza Express CEO Mark Angela and Lion Capital director Jan Woods - has also appointed investment professional Anas Chakra to its board of directors.

Piccolo declined to comment.
The brand launched in 2016 aiming to create "nutritious, wholesome food for children". Its range is available in all major UK retailers including Asda, Morrisons and Boots.