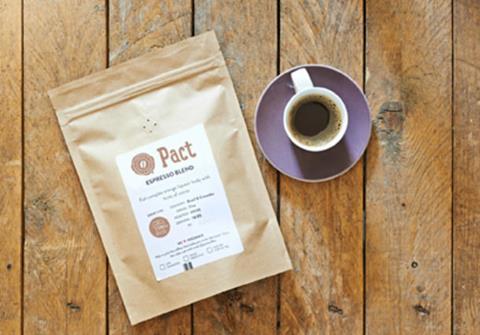 Pact Coffee has pulled the plug on its ambitious crowdfunding campaign to raise £1m as a result of weak investor interest, with just 19% of the target raised in the month-long pitch.
The London-headquartered business, which delivers freshly roasted coffee by post, launched the pitch on Crowdcube in February to raise cash for new product development and to break into international markets.
However, with just days to go before the close of the campaign, Pact had only received pledges for less than £200,000 from 931 potential investors.
Pact planned to give away 3.9% of the business in return for the £1m, valuing the start-up at more than £25m.
CEO Stephen Rapoport, who founded the company in 2012, has not ruled out returning to the crowd in the future.
"Whilst the business is in great shape today, our customers and the crowdfunding community couldn't support our future plans and finance strategy in enough numbers to close the round," he said.
"So we're doing the smart thing; taking their feedback on board and reviewing our plans before coming back to the table. I'm proud of the business we've built and our plans for the future, but not so proud that I'm against revisiting the plans as we learn and grow."
Rapoport, who sold Crashpadder.com to Airbnb the same year as starting Pact, hoped to use the funding to quickly scale up the business and expand into at least two European markets, as well supplying offices.
Pact has already secured more than £5.6m from its financial backers, including VC veteran Robin Klein - who previously backed LoveFilm and Mind Candy - MMC Ventures, Connect Ventures and Rowan Gormley of Majestic Wine and Naked Wines, as well as other angel investors.
The business is predicting rapid growth, with financial projections included in the Crowdcube pitch forecasting revenues to balloon from current levels of £3.4m to £95m by 2018. Losses were also forecast to expand from £1.9m to £9.2m over the same period as Pact pours profits back into the business to fuel the growth levels.
"The ambition remains," a Pact Coffee spokesman added. "We plan to be a global brand and grow quickly. We're looking again at the strategic plan and we'll still be financing again later in the year. The customer ownership model is still really appealing to Stephen."