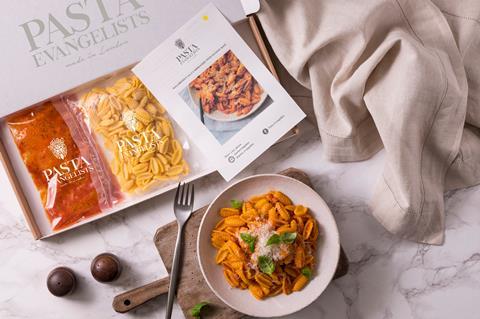 DTC fresh pasta supplier Pasta Evangelists has secured a seven-figure minority investment to ramp up its omnichannel strategy.
The four-year-old brand, backed by Great British Bake Off judge Prue Leith, raised £3.5m from funds including Pembroke VCT – backer of Rubies in the Rubble and Plenish – and Guinness Asset Management.
Pasta Evangelists founder Alessandro Savelli said the cash raised would be used by the business to increase its efforts to expand across all channels, from DTC to retail and foodservice.
"The DTC category, not just within food, is for sure the future. E-commerce, subscriptions and digital native brands are only going to get bigger but are still a completely new segment," he added.
"Therefore, some investors are still cautious of businesses which are only DTC, because they understand that the marketing budgets required to grow are very high and therefore the losses that need to be sustained are substantial before the business can break even."
Savelli added that funding discussions with Pembroke failed last year because, back then, Pasta Evangelists was limited to a DTC online model.
Since then, the brand has differentiated its proposition by launching in-store concessions first in Harrods' food hall and then into M&S's new-format store in December.
It also rolled out three SKUs on Ocado last year, as well as selling cooked pasta on Deliveroo from two London dark kitchens and becoming available on Amazon.
Early stage discussions had begun with other retail partners, Savelli added.
"Our core is within the concepts of quality, freshness, craftmanship and premium," he said. "That is the most important thing for us. As long as we can sell our very high-quality, fresh pasta in the UK then we don't mind how customers buy it."