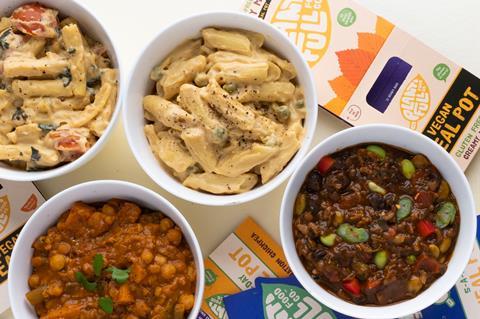 Vegan meal pot startup Plantifull is attempting to raise a six-figure sum to support in-store expansion after securing its first "major" national listing.
The two-year-old brand is offering an 18% stake in exchange for £350k. Co-founder Adam Courtenay said discussions had only just started but the business was open to "all sorts of investment" from venture capital funds to angel investors and crowdfunding.
"For us it is really important that we have an investor that buys into our vision, what we are doing and the whole plant-based ethical space," he said.
The brand would use the funds to start "pushing some new products forward, gain more listings and hopefully grow the brand nationally", he added.
Plantifull has just secured its first major national listing with three SKUs from its meal pot range to be stocked in 470 Holland & Barrett stores from March.
Four additional products – two ready meals accounting for five of the 5 a day and two jerky variants – were also ready to be rolled out into the brand's 100% vegan meal pot and jerky lineup.
The range – including Creamy Mac, Asian Teriyaki and Coronation Chickpea – is also stocked by Ocado, Planet Organic, As Nature Intended and Eat 17.
Conversations were also ongoing with other national grocers.
"Because we are a startup, a lot of major supermarkets want to see that we can deliver at scale before listing us. We are geared up to do that, so we are hoping that following our launch into Holland & Barrett we'll get future listings with some of the other multiples," Courtenay added.
He launched Plantifull alongside his wife Becca after watching US documentary Forks Over Knives and transitioning to a plant-based diet overnight.
The brand is aimed at dispelling the misconception that "vegans only eat salad", Courtenay added, making it easier for people to eat tasty plant-based foods.