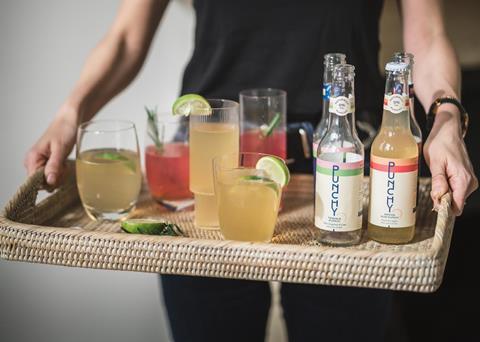 No and low-alcohol startup Punchy Drinks has launched a crowdfunding campaign to fund a rebrand and move into cans.
The London-based craft punch maker took to Seedrs today (14 October), after participating in the crowdfunding platform's accelerator programme, seeking £250k offering a 10.24% stake in the business, for a valuation of £2.2m.
Within hours of opening to the public, the campaign had already reached over 73% of its target, with £183k pledged by 30 investors.
"It took a lot of hard work, but we have had a very good response," founder Paddy Cavanagh-Butler said. "A lot of people buy into what we are trying to do, we tick many boxes such as the no and low and sustainability trends.
"We are now leaving the proof of concept phase and going much bigger and better with this new investment. It's exciting times ahead."
Punchy plans to use the funds raised to develop new "exciting" flavours, make the move from glass bottles to cans and target its first grocery listing.
On top of this, the business is going to rebrand with a new "cutting-edge" design, Cavanagh-Butler added.
The company's range of two flavours – Spiced Rum and Tequila, available both with and without alcohol – is currently stocked in Ocado, Fenwick, Amazon and Fortnum & Mason among others.
Punchy's decision to offer non-alcoholic alternatives came as Cavanagh-Butler felt strongly that "you don't need to get pissed to have fun".
"The brilliant thing about punch is that you can have two very tasty drinks, one which has booze and one which doesn't.
"We are just trying to contribute to the conversation, being brave enough to say that it is not about binge drinking or being teetotal, it is about doing what you want when it is right for you."
The one-year-old brand is also seeking to partner with an export specialist to gain access to new markets, with special focus on Europe, the Middle East, Australia and the US.