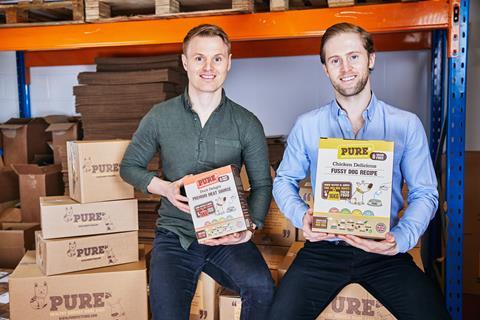 Pure Pet Food has secured a £2m cash injection from NVM Private Equity to accelerate growth plans.
The healthy pet food brand will use the funding to launch new products, drive recruitment and to expand its offering across Europe.
The Yorkshire-based business, which produces dehydrates and freeze dried pet food, was founded by Mathew Cockroft and Daniel Valdur Eha to provide a healthier option for pet-owners.
Pure produces natural pet food products from its human grade food site in Halifax, West Yorkshire, and is listed by retailers including Pets at Home.
The investment comes amid growth in the premium pet segment, which saw Nestle acquire direct-to-consumer brand Tails.com in May 2018.
"This investment will allow for the development of a much more personalised offering, improving the level of service we can provide to our customers and their pets," commented Cockroft.
"We see huge opportunity within this space and by partnering with NVM we now have the resources and experience to realise our vision."
Valdur Eha added: "Pure pet food has proved to be a big hit with pets suffering from a range of ailments and allergies such as stomach sensitivities, IBD, pancreatitis and fussiness to name just a few.
"I think rather than anything special in our recipes it is more what we haven't added. Our food contains no grains, corn, additives or any other nasties."
NVM's investment is its latest in the grocery sector, after purchasing stakes in crisp manufacturer It's All Good, snack bar brand Primal Pantry and Cornish pasty supplier Crantock Bakery.
Aaron Lawson-Clark, investment associate at NVM, said: "NVM is delighted to be backing Dan and Mat to take Pure Pet Food to the next level. The team have impressed demonstrating the skills required to build a business, brand and quality product with limited resources.
"We are excited by the potential market for natural convenient pet food in the years ahead and we look forward to working with the team to scale up the business and deliver the future of pet nutrition."