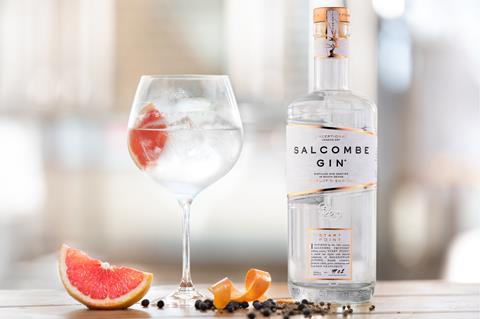 Luxury gin brand Salcombe Distilling Co has smashed its crowdfunding target as it prepares to launch Stateside early next year.
The gin manufacturer took to Seedrs last week, seeking £800k in exchange for a 4.55% stake – valuing the brand at £16.8m.
The campaign hit its target within a day of its public launch and has so far raised £851k from 156 investors.
"We have got lots of interest coming in and the warmth and positive response that we are getting is lovely," co-founder Howard Davies told The Grocer.
The business is now planning to "significantly overfund", he added.
"I would be very comfortable doing double or even triple our base target. That would just enable us to really execute our ambitious plans even more aggressively.
"The more investment we can take in, the more we can push harder, and we have huge aspirations, both on a national and international scale."
Salcombe is planning to launch in the north east of the US, tapping New York and Boston, by the end of Q1 2020. It has already secured two distributors in the country.
"The US is a really exciting marketplace," Davies added. "The passion and excitement around gin there is just starting to take off, a bit like where the UK was maybe five years ago."
Further funding from the raise will be used towards NPD, including collaborations with chefs and winemakers.
The three-year-old brand achieved revenues of just over £2m in the year ended February 2019. It is now eyeing turnover of £2.5m for FY 2020.
Salcombe has not yet achieved profitability, but Davies claimed that resulted from the "conscious decision" to "heavily reinvest" profits into growth.
"We are just very aggressively trying to drive the business forward and grow it, and we understand that to achieve all our plans the business will make a loss at the moment.
"In a few years we will end up with a very clean profitable business."
By 2025, when it will start to consider an exit, the company expects to achieve turnover of £16.5m and gross profit of £10m.
Salcombe's two-strong range, Start Point and Rosé Sainte Marie, is listed in Harrods, Selfridges, Harvey Nichols, Fortnum & Mason and Majestic across the UK. They have regional listings in Waitrose and Marks & Spencer, as well as in restaurants, bars and independent retailers.