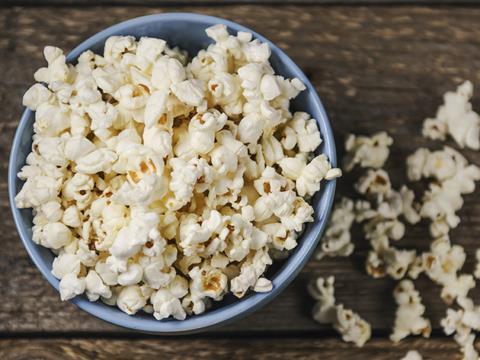 Own-label healthy snack manufacturer Savoury & Sweet (S&S) is planning to invest heavily in equipment and research & development to take advantage of rising consumer demand for popcorn.
The Leicester business, which works with brands and major retailers, has secured a multimillion-pound investment package from a fund advised by a division of private equity group Permira.
S&S said it would use the money to fund state-of-the-art popcorn manufacturing equipment and NPD, including new flavours of popcorn, for its customers.
"The demand for popcorn and other health-related snacking products is rapidly increasing," CEO Tinku Durrani added. "This investment enables S&S to support its customers in driving innovation in the rapidly expanding popcorn market. Popcorn is no longer restricted to the cinema market. We are seeing consumers really take to popcorn in their daily eating routine as it is both healthy and there are lots of new flavours coming to market."
S&S, which also has an in-house popcorn brand called Lord Poppington's, relocated to a 135,000 sq ft purpose-built manufacturing facility in Leicester earlier in the year to keep up with growing demand for its products. It now has plans grow its footprint beyond the UK into Europe and other international markets.
MD John Harrison said: "This investment [from Permira] now enables us to accelerate innovation in the health-snacking market, notably in popcorn. We will be expanding our R&D team, investing in new popcorn manufacturing equipment and providing our customers with world-class product. The demand for popcorn is going through the roof and we are seeing increased shelf-space devoted to popcorn as retailers react to consumers demanding healthier snacking products."
Permira Credit Solutions II, a fund advised by Permira Debt Managers, which is Permira's independent debt management and advisory business, provided the undisclosed multimillion-pound funding package.
The investment represents the 15th from the 2014 vintage fund, which has now provided close to €450m of capital to mid-sized businesses across Europe.
"We see a real uplift in the demand for popcorn and other related healthy snacking products, with this funding enabling S&S to continue its investment into product innovation and delivering outstanding service to the multinational brands it partners with," added Dan Hatcher, investment director at Permira Debt Managers. "We think this will be the best invested popcorn business in the market and as such the opportunity is hugely exciting."