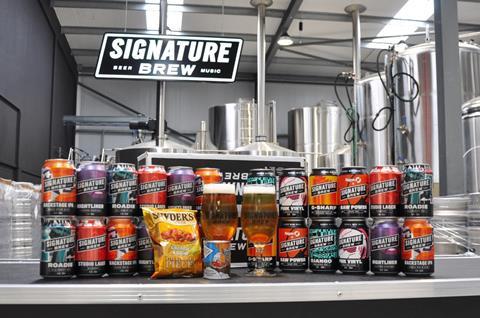 Signature Brew has launched a £700k crowdfunding campaign to fuel growth and take its beer into supermarkets.
The London-based brewery is known for collaborating with bands and musicians, and runs a number of bars and gig venues across the capital.
Since launching in 2011, it has created more than 60 collaboration brews with the likes of Alt-J, Idles, Hot Chip, The Darkness, Mastodon and Mogwai.
Its flagship Studio Lager and Roadie All-Night IPA are also sold by other gig venues around the UK, including Strongroom, Rough Trade, Bush Hall and The British Music Experience.
Signature said in the campaign pitch that growing its exposure in the off-trade was central to its 2024 sales strategy.
The money from the crowd round on Seedrs will help Signature Brew take the business to more pubs, venues and festivals in the UK and overseas, as well as launching in supermarkets, convenience stores and bottle shops.
It will also use the capital to turn marketing spend back on after cutting back to cope with rising costs, and will increase production capacity at the Blackhorse Road brewery by 10,000hl a year.
"Our original goal of making beer better at the venues and festivals we loved to go to still drives us today and through our community of artists, venues and partners, more and more venues are choosing to stock Signature Brew across the UK," said Signature Brew co-founder Tom Bott.
The crowd campaign – the company's third following two rounds on Crowdcube in 2015 and 2018 – is overfunding as more than 200 backers invested to help hit the £700k goal.
Gus Unger-Hamilton from Alt-J, who is also an investor in the brand, said: "Ever since Alt-J collaborated with Signature Brew in 2018 I've loved the brewery and what the guys are trying to achieve with music and beer."