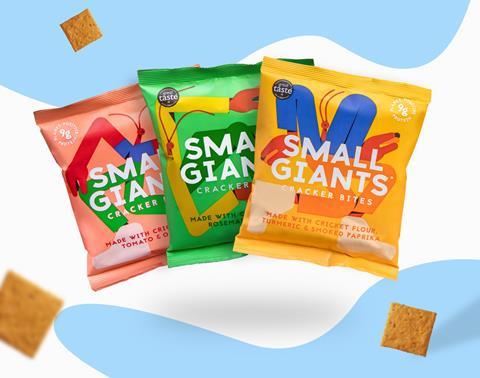 Insect-based snacks start-up Small Giants has closed an investment round of more than £400,000 to supports its growth across the UK and Europe.
The London-based brand produces a three-strong range of crackers made using 15% cricket flour, which are available in Sainsbury's and from Amazon, as well as online on its DTC site.
Small Giants aims to change perceptions surrounding insects and bring its snacks to the mainstream.
The latest investment round, which had an initial target of £250,000, will help the business with its ambitions, funding the development of new products and expansion in the UK and Europe.
Francesco Majno and Edoardo Imparato co-founded the company in 2019 and launched in the UK as Crické.
Following an initial funding round of £130,000 in March 2020, the pair created a new brand identity and product range and launched Small Giants in November 2020.
A majority of the latest investment came from European VC firm iN3 Ventures. Partner Mario Rizzola Pasotti is also now a member of the Small Giants advisory board.
Imparato said: "It is fantastic to see that investors with great experience in the food sector believe in our project. Thanks also to their support, we will now be able to develop new products and support the expansion of Small Giants in both the UK and Europe."
iN3 Ventures added: "iN3 Ventures started exploring the edible insects trend months ago and Small Giants has everything needed to be one of the leaders in this fast-growing market."