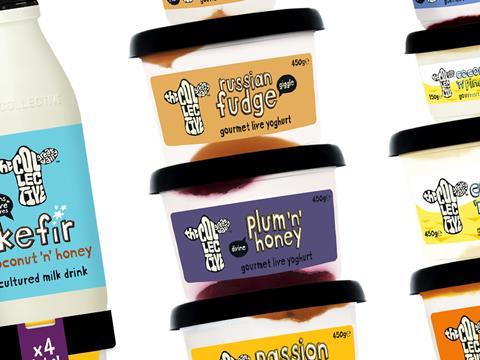 Yoghurt brand The Collective has secured funding from a New Zealand private equity house as it seeks to expand internationally.

The investment, after a process first revealed by The Grocer in February, will see Wellington-based Pencarrow take a minority stake. The undisclosed cash injection is part of a restructuring of the joint venture between The Collective UK and its sister New Zealand business into one entity.

Securing the investment and restructuring the business would simplify operations, said Collective UK co-founder Amelia Harvey, and would "allow us to work together on product innovation such as our new kefir range", which launched last month.

The brand is currently on sale in the UK, Ireland, Middle East and New Zealand, and is understood to be eyeing several European markets, Australia and the Far East.

Harvey will sit alongside Collective NZ founders Ofer Shenhav and Angus Allan on a new global board. It will also include representation from Pencarrow and non-executive directors.

"When we founded the UK business in 2011 our ambition was to build a brand that would shake things up in the dairy category, with taste at the forefront and innovation at our core," Harvey said.

"We are very proud of our growth, starting out with just two people and three flavours and now we have 23 employees, four ranges and over 30 products - with a jam-packed innovation plan to come to market throughout 2018."

Harvey established the UK business with the late Mike Hodgson in 2011. Its New Zealand-based sister company was launched by chefs Allan and Shenhav in 2010.

The brand saw sales grow by 43% to £32m in the UK last year and now sells more than 500,000 yoghurt pots a week.

"It's clear that The Collective is a very special brand," said Pencarrow managing partner Rod Gethen. "We were impressed with how the brand has turned a declining category into one of immense innovation and excitement."

The private equity house was "particularly taken with the company's growth over a short period of time" and looked forward to supporting the business "with our growth expertise and helping to build the brand globally", he added.