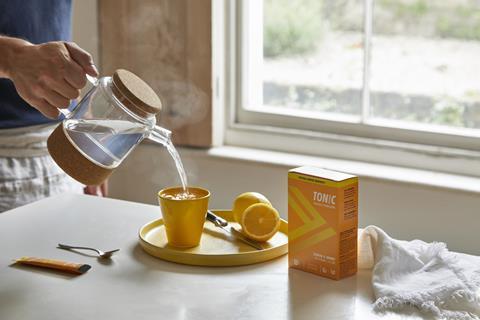 Tonic Heath has successfully closed a £600k private investment round after increased consumer demand for natural ways to boost immune systems led to a jump in sales.
The startup – maker of 100% natural, high-dose vitamin drinks – kicked off the fundraise in February, originally looking for £400k in a blend between an institutional raise and a later crowdfunding campaign.
As it was able to raise 150% of its target without going to the crowd, founder Sunna van Kampen told The Grocer the campaign had been cancelled to focus on business growth.
New Look founder Tom Singh was among the investors backing the brand, as well as ex-Unilever president Diego Bevilacqua, GHD COO Peter Tighe and scale-up marketing agency And Rising.
Tonic Health is now set to ramp up sales and marketing operations in the UK as it seeks to disrupt the healthcare category, following a recent launch in Boots.
Van Kampen said the business had experienced "incredible growth" this year – with sales rising 1,000% in March – as consumers started to understand the importance of the immune system to health and wellbeing.
"The media and public profile of Covid-19 has created much-needed focus on immune health and the science behind it," he added.
"The important discussions around the pandemic have helped people understand that alongside the development of any vaccine, we need to focus on a holistic approach and what ultimately helps us recover: our immune system."
Tonic's two variants – Lemon & Honey and Elderberry & Blackcurrant – were designed to help customers recover from a cold or the flu, rather than just provide symptomatic relief.
They have the highest dose of vitamin C on the market – 1,500mg – combined with vitamin D, zinc and real plant extracts.