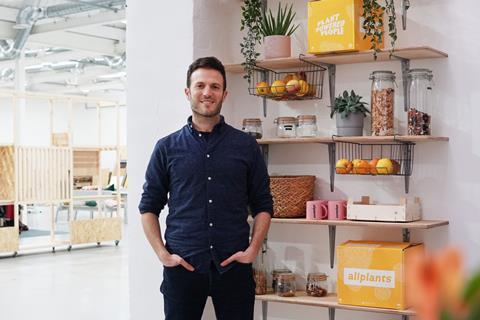 Vegan DTC meal delivery startup Allplants will kick off a fundraising push next week as it aims to raise up to £20m this year.

The business will hit crowdfunding site Seedrs on Monday 10 February looking to raise £2m in a convertible loan note round, allowing investors to gain a 20% discount on a future Series B raise planned within the next 12 months.

The crowdfunding campaign is part of an initial round of fundraising which will also include cash from VC and angel investors.

This first raise will then "turbocharge" a bigger institutional funding round planned before the end of 2020 to raise between £15m and £20m, co-founder Jonathan 'JP' Petrides told The Grocer.

"We have always wanted to bring our community on board. The crowd will be offered exactly the same terms of our other VC, angel and institutional investors," he said.

"Our customers are involved in everything within our brand, from our boxes return programme to helping us develop new recipes, so this was always the natural next step."

Established in 2016 by former Propercorn brand director Alex Petrides and his brother JP, Allplants has already attracted interest from various VC firms and industry figures - raising £7.5m in 2018 and £800k in 2017.
The business, which delivers prepared frozen vegan meals such as Caribbean Jackfruit and Cauli Tikka Masala direct to customers, is seeking to grow the "vegan-ish" movement by increasing brand awareness and accessibility into the plant-based lifestyle, JP Petrides explained.
"Last year around four billion meals eaten in the UK were vegan but 92% of those were eaten by people who are not vegan, so really the vegan movement is driven by people who are eating a little bit more plant-based and that's what we are all about," he added.
"We are obsessed with showing people how vibrant, exciting and inventive plant-based food can be and we are just getting started."
The additional cash will now be used to fund marketing spend, NPD and continued investment in Allplants' production kitchen – a newly-opened 20k square feet dedicated plant-based kitchen in London – which will allow the brand to expand both within the UK and abroad.
So far, Allplants has been exclusively DTC, but it is "openly looking" at the possibility of launching on supermarket shelves.
"We envision being one of the global households brands behind the plant-based movement and for that to happen, we have to be available where people are looking," Petrides added.
"We are already in quite advanced conversations with a couple of the major grocery players in the UK, how and when we actually deploy that is TBC."