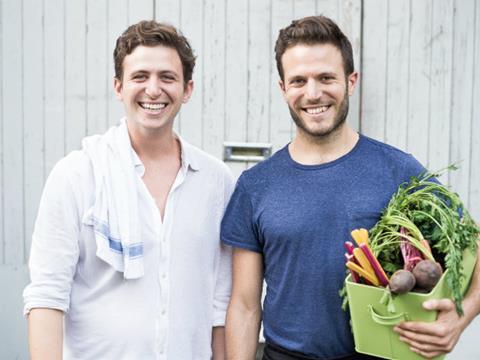 A vegan ready meal start-up established by the former brand director of Propercorn has raised £800,000 from investors, including a venture capital firm and one of the founders of the popcorn brand.
Allplants, founded by brothers Alex and Jonathan Petrides, plans to use the money to grow the plant-based vegan menu online and prepare to launch a range in the major supermarkets.
The business said the sale of the minority stake, which valued Allplants at £4.3m, was the biggest venture-led raise by a vegan start-up in Europe.
It comes as demand for a meat-free diet is soaring, with The Grocer reporting today that the flexitarian trend is driving growth of meat-free food, with sales up £17.2m over the past year [Kantar Worldpanel 52 w/e 29 January 2017].
Investors in the round included VC firm Felix Capital, Propercorn founder Ryan Kohn, Romy Lewis from London bakery Lola's Cupcakes, Neel Nagrech, owner of Rubicon Drinks and Shana Foods, and the Liveras family, who founded Lauren's Patisseries.
Media companies Jungle Creations and BOSHtv also invested money, alongside social impact specialists, including Amit Gudka, founder of clean energy business Bulb, the Korijn family, Linsen Abdon and Julian Johnson.
Alex Petrides, who was the first employee at Propercorn, where he was brand director for five years before leaving in October to dedicate his time to Allplants, said the successful fundraising was a clear signal the UK's burgeoning plant-based eating movement was "about to erupt".
"It is really important that we brought in investors with real expertise and experience in food, and also in how to create a sustainable social impact," he added.
"The investor base also gives us the business sense on how we can grow and build the company."
The business, which delivers prepared vegan meals such as black bean chilli and lasagne made with a butternut squash béchamel direct to customers, is planning a launch of chilled range in supermarkets early next year.
Petrides said there is also a second, bigger fundraising round planned for next year, using crowdfunding to bring more people into the brand.
After switching to a plant-based diet in late 2015, the brothers had plans to launch a meat-free restaurant. However, the pair decided to launch a nationwide delivery business instead of a restaurant following the success of a series of supper clubs,
Allplants launched in late 2016 and has since delivered more than 15,000 meals to customers.
Antoine Nussenbaum of Felix Capital said: "We are delighted to back the founders on such an inspiring mission: bringing the plant-based culture central to mainstream lifestyles. Allplants is much more than delicious food, it's a community, an aspirational movement full of creativity."
Alex Petrides added: "By 2030, most people will be mainly vegan – not hippies or activists, just normal, casual and vegan.
"The plant-based food scene is growing by the day. From stylish restaurants like Bluebird undergoing vegan make-overs, to celebrities like Ellie Goulding, Emile Sande and David Haye rocking plant-power. It isn't a fad. It's a social movement."
Jonathan Petrides, an ex-Mckinsey consultant and founder of African mobile bank M-Shwari and Penda Health, a health and wellness hospital chain in Nairobi, said: "People already know that eating more plants is good for their health and the planet. We're not here to preach, we're simply focused on making delicious food; empowering the nation to feel good and do good. We're part of a new generation."