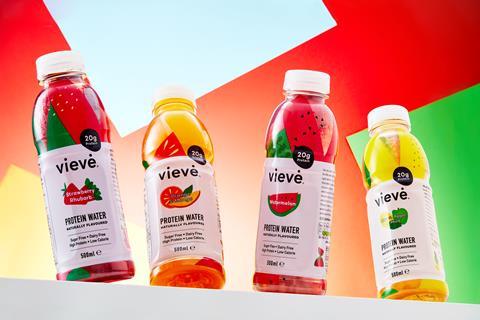 Protein water brand Vieve has kicked off a fundraising push to fund a trial launch in the US and become a leading player in the sports nutrition category.
The London-based startup is looking to raise £150k from a range of strategic investors who would be able to "open up a few doors for the brand", founder Rafael Rozenson told The Grocer.
"Part of the objective of the round is to bring the right people on board," he added. "I have been leading the business by myself for a couple of years and we are now looking for someone with experience in the industry to guide us as we scale up."
Last year Vieve raised £125k from a small group of angel investors.
It now plans to use the extra money to support a test launch in the US, fund marketing activities and add new members to its team.
"In five years, we want to be a £10m brand," added Rozenson. "We want to be a very established fitness brand that has managed to cross into the mainstream, a bit like a Grenade."
The startup's four-strong drinks lineup – Watermelon, Strawberry Rhubarb, Orange & Mango and Citrus, Apple & Mint – provides 20g of protein in each water-based drink, is fat-free, sugar-free and low in calories.
In the UK, it is currently stocked on Ocado and Amazon as well as being available on Vieve's e-commerce site and across a network of gyms, cafés and convenience stores.
Internationally, the brand exports to 16 countries across Europe, the Middle East and Asia, including Germany, France, UAE and Qatar.
A new launch into 100 stores in Ireland is planned in the next couple of months.