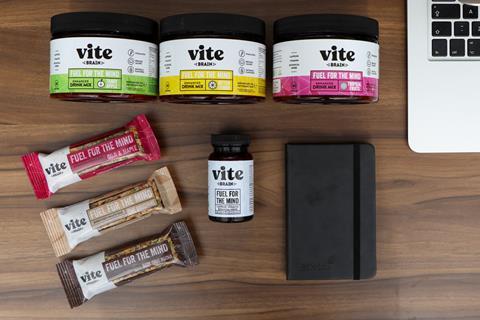 Functional nutrition startup Vite has secured £175k following an equity fundraising round to support NPD and marketing initiatives.
The cash injection has been reached through four new investors identified with the help of YF Funding, a platform created in collaboration between Young Foodies and Spayne Lindsay to help growing fmcg businesses secure cash.
Alongside the money already in the bank, Vite has been granted options for another £50k, exercisable within the next six months should it choose to.
The 18-month-old business will use the money from the investment to fund a raft of NPD – including the launch of a 'first-of-its-kind' nootropic snack bar.
"The vast majority of people can benefit from some form of functional nutrition yet not everybody wants to take supplement capsules every single day," said founder Robert Thorp.
"What we are focusing on is offering functional nutrition in forms that everybody can enjoy, and snack bars is really the option that the market has chosen."
Further funding will support marketing initiatives to establish the brand and secure a loyal fanbase though the development of a comprehensive content strategy aimed at "demystifying a range of topics around functional nutrition".
"We really have a very unique opportunity in the UK to be the first food brand that brings nootropics to the mass market," Thorp added.
"That opportunity won't be around forever because there are other players in this space and, in order to utilise it properly, raising money is essential."
Vite's single nootropic product line – including supplement capsules and a drink – is currently available on the company's website, Amazon and a few smaller online retailers.
However, the company is planning to start holding conversations with major retailers to secure listings early next year.