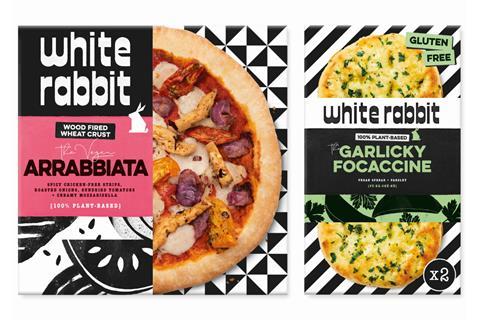 Plant-based pizza maker White Rabbit is seeking £300,000 from the crowd to help expand its range.
The crowdfunding push, which follows a surge in demand during Veganuary, is set to go live on the Seedrs platform on 20 January.
The challenger brand plans to use the money to back its recent launch into the main pizza fixture in retailers.
White Rabbit expanded beyond gluten-free for the first time in December, with a wheat crust, plant-based "meaty" Vegan Arrabbiata pizza listed in Sainsbury's.
An extension of its gluten-free range is also launching into Sainsbury's, Waitrose and Ocado in the form of a duo of mini focaccias, which marks the first non-pizza SKUs developed by the brand.
The business, founded in 2015 by Nick Croft-Simon and Matteo Ferrari, will also use the crowd investment to take on extra staff.
"We're entering a new space and it's important to give these variants the support and resource they deserve, alongside ensuring Matteo and the team have the tools they need to bring even more beautiful, plant-based or gluten-free Italian food to market," Croft-Simon said.
"We've always been an incredibly consumer-led business, so to be able to give those same consumers a chance to own a part of our brand with this Seedrs campaign is really exciting.
"The growth in consumer demand for plant-based isn't going anywhere. We were the first brand to have a chilled vegan pizza on shelf in the UK back in 2017 and we cannot wait to continue implementing what we've learned from our consumers over the years. It genuinely is such an exciting time to be in this space."
White Rabbit has benefited from the growing demand for plant-based products during the coronavirus pandemic but has had to put plans to enter the foodservice market on hold.
"Covid was positive for our retail arm, but it did slow plans in other channels meaning we had to adapt and bring forward plans we always had to extend our presence in the supermarkets," Croft-Simon added.
White Rabbit achieved year-on-year growth of 55% in 2020 despite the challenges presented by Covid, with revenues more than doubling from 2018 to about £2.7m.
Meanwhile, investor appetite for plant-based brands helped fmcg startups register a record year on Seedrs in 2020.
During the year, 58 food and drink campaigns hit their funding targets, a 29% increase on 2019, raising a total of £45m – a 121% rise on the prior period.
It is the first time since the platform launched in 2012 that more than 50 food and drink pitches successfully completed, with an 85% success rate for start-ups in the sector.
Fifteen businesses in the space raised more than £1m, a three-times increase on any previous year.
Startups in the plant-based market were the star performers for food and drink, with Allplants and This both raising £4.5m, alongside more than £1m for vegan snacks producer Livia's and £910k for dairy-free brand Mighty Pea.
The platform also registered a profitable exit for investors in Mindful Chef, which was snapped up by Nestlé in November.