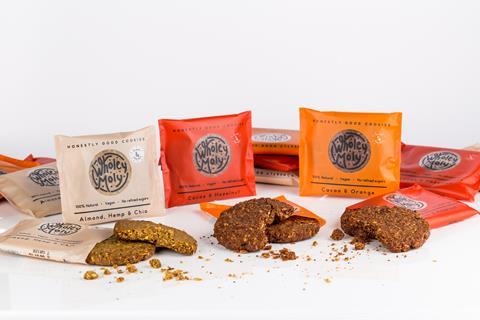 Healthier cookies startup Wholey Moly has closed a small funding round to support the business through the coronavirus pandemic.
The company was able to raise the funds from friends and family after a bigger raise with angel investors was postponed due to the crisis.
It plans to use the cash raised to invest in marketing and PR activities, as well as pivot the business towards e-commerce, after conversations with retailers for further listings were paused.
"We decided to raise a small amount to tide us over," founder Meenesh Mistry told The Grocer.
"This year the whole plan was to scale the business, we were talking with the likes of Waitrose and Sainsbury's, but that's now been paused.
"We will now have to use the money to create an e-commerce website and launch on Amazon to take advantage of the online growth."
As the situation stabilises, Wholey Moly plans to raise further cash within the next nine to 12 months to "fuel its growth", after resuming talks with angel investors.
Wholey Moly's three-strong range of cookies – Cacao & Orange, Cacao & Hazelnut and Almond, Hemp & Chia – is currently stocked by Whole Foods Market, As Nature Intended, Amazon, Selfridges and Sourced Market, among others.
Since the beginning of the pandemic, the brand has seen an initial drop in sales as foodservice stockists were shut, but later experienced a pickup in online sales and subscription boxes featuring healthy snacking brands.
"After the first few weeks we have seen an uptick in sales to more than what we would have normally done," Mistry added.