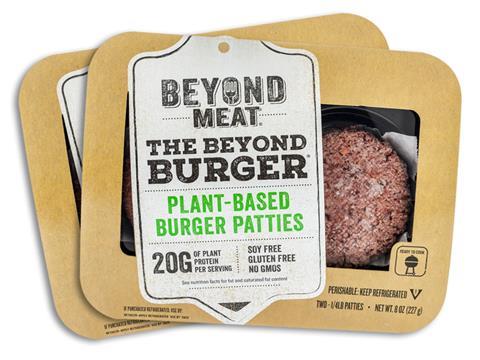 Smash hit meat alternative Beyond Meat is set to arrive in British supermarket freezers as soon as July, industry sources have suggested.

Following mounting speculation over a UK launch since the turn of the year, The Grocer understands the US brand is close to finalising a deal to supply Tesco. Sources have suggested it has set a target to establish itself in the UK by the end of July, with its pea protein-based Beyond Burger due to go on sale first, followed by its Beyond Sausage variants.

Whilst both Beyond Meat and Tesco were this week tightlipped over their UK intentions, the brand did confirm ambitious plans to "go global" this summer to roll out the Beyond Burger across 50 countries and six continents "offering a revolutionary solution to the growing global demand for protein".
It follows confirmation last month of a deal with poultry giant PHW Group to distribute across Germany and a separate deal with Dutch importer Zandbergen to supply the product to the rest of Europe excluding the UK.

The brand said it had also partnered with a "select group" of distributors in Canada, Australia, Mexico, Chile, Israel, UAE, Korea, Taiwan and South Africa.

"Reflecting rapid demand growth in the US and sustained interest from international markets, we've taken steps to significantly increase production capacity," said Beyond Meat founder and CEO Ethan Brown.

"These additions make it possible for us to support international launches, building upon the successful 2017 introduction of the Beyond Burger in Hong Kong."

The brand's burgers are sold alongside chilled meat products in the US. But in an interview with The Grocer in January, chairman Seth Goldman suggested the product may have to be sold frozen in the UK due to retailer resistance to positioning a product as fresh when it has been shipped from the US frozen.