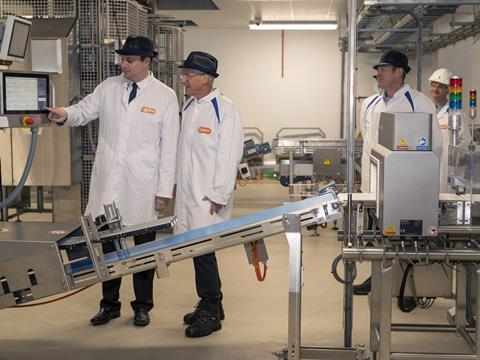 Quorn has opened what it claims is the largest meat alternative production facility in the world after a 9,500 sq m expansion of its Billingham, County Durham site.
It is part of a £150m investment at the site as Quorn bids to capitalise on the surge in uptake of flexitarian, vegetarian and vegan diets. The brand is aiming to become a billion dollar brand by 2027.
The factory's expansion will see Quorn double output of its core lines to about 40,000 tonnes of food per year, or 1.3 million packs per week.
It will also improve energy efficiency, helping to reduce the amount of greenhouse gases emitted per tonne of food produced. The move follows Quorn's recent elimination of 297 tonnes of non-recyclable plastic from its supply chain and a pledge to achieve 100% recyclable, reusable or compostable packaging by 2025.
"We are the world leader in meat alternatives and have seen our business grow by 16% in the last year," said Quorn CEO Kevin Brennan.
"We see decades of growth ahead of us as consumers respond to growing environmental concerns around meat production. We provide dramatic sustainability benefits compared to meat and with this new facility will enhance those benefits further."
It comes just two months after the company unveiled a new £7m innovation centre at its North Yorkshire headquarters, where the company plans to enhance its vegan offer and create a host of "next generation" NPD. The first raft of products are set to include a vegan alternative to battered fish and a burger giving the illusion of bleeding with beetroot juice, due to launch next spring.