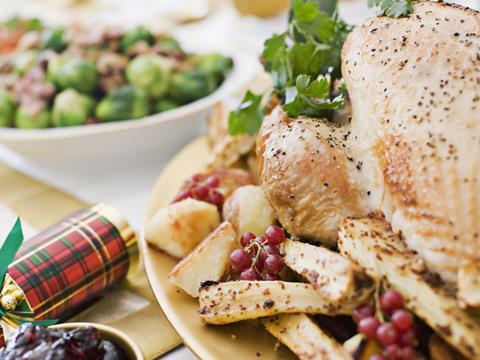 The cost of Christmas fare fell in 2018 after a currency-fuelled spike in supermarket inflation sent food prices soaring back in 2017.

Supermarket shelf prices fell 0.4% in December, according to The Grocer Price Index, collated by Edge by Ascential from almost 64,000 SKUs across the big four. This move back into annual price deflation represents a marked turnaround from 2017, when festive prices were up 2.4% after the weak pound drove supermarket inflation to a peak of 2.7% that November.

During the 2018 festive period, meat, fish and poultry saw deflation of 2.2% across the big four, having been up 3.9% in the same period in 2017.

Fruit & veg was down 0.2% year on year compared with inflation of 1.5% the previous year, while biscuits, confectionery and snacks and alcoholic drinks were both up just 0.1%, having risen 3.8% and 1.5% in December 2017.

Prices in eight of the GPI's 14 categories fell, including a 1.6% drop for health and beauty goods and a 1.4% drop in deli.

Soft drinks stood out as an exception to the wider deflationary trend as the sugar levy drove higher prices through the latter half of 2018. The category remained up 1.9% year on year, down from a peak of 3.9% in July. Prices also rose in bakery (up 1.3%) and frozen (0.8%).

"Deflation is not a massive surprise when you look at the sales trends going into Christmas," said David McCarthy, HSBC's global head of consumer retail research. "If you have a tough Christmas and need to stimulate sales, cutting prices is what you do."

But there was no "one-dimensional answer" for the return to deflation, he added. "There is a lot going on in the industry right now. You have the step up in growth by the discounters - before Christmas, Aldi opened up more stores in one day than ever before; you have the Exclusive at Tesco range, and concerns over Brexit. I don't think there is any one-dimensional answer to explain this change."

Asda was the biggest price-cutter for the second consecutive month, with prices down 1.1% year-on-year, while price cuts at potential merger partner Sainsbury's (SBRY) were only fractionally lower, also rounded to 1.1%.

Tesco's (TSCO) price increase year-on-year was essentially zero having been at 3.7% over Christmas last year.

Morrisons (MRW) once more showed the highest price inflation at 1.3%, marking its third month in the row of having the highest level of inflation.

Waitrose, not included in the overall GPI figure, saw annual inflation of 0.5% in December and is the only supermarket amongst the five analysed in the GPI not to have posted a month of deflationary prices in 2018.

On a month-on-month basis GPI prices fell 0.7% from November to December, marking the lowest absolute price level since December 2016.

On a monthly basis, the biggest price falls were in health & beauty, frozen and household goods - all down 1.7%.