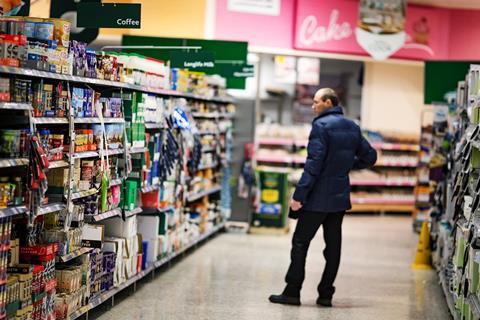 Supermarket prices have fallen back into deflation in February following a temporary post-Christmas price jump that sent shelf prices up in January for the first time in four months.

The Grocer Price Index, collated by Edge by Ascential from more than 64,000 SKUs across the big four, found supermarket prices fell 0.3% in February following the brief bounce back to inflation of 0.4% in January.

The return to deflation marks the second-largest monthly period of annual deflation since December 2016 - only surpassed by the deflation of 0.4% recorded in December two months ago.

Three of the big four supermarkets were in annual deflation last month, led by Asda, which recorded an overall annual price drop of 0.8% year on year. Asda has now shown the lowest rate of price inflation in each of the past five months.

The rate of annual deflation also deepened at Sainsbury's and Tesco, moving from 0.1% to 0.5% and from flat to -0.3% respectively.

Morrisons remains in annual inflation, though its rate of price rises fell from a spike of 2.1% in January back to 0.5% in February.

Morrisons is the only big four supermarket yet to record a month of annual deflation over the past 12 months, though its level of inflation in February was its lowest since posting 0.4% in September 2018.

Waitrose, not included in the overall GPI figure, had also remained in inflation over the past 12 months and its annual price rises stood at 0.9% in February - its highest inflation level for four months.

There was no predominant category driver for the uptick in deflation, with low-level deflation spread across 10 of the GPI's 14 categories.

The biggest category deflation was seen in household, at 1.5%, with the other nine deflationary categories posting price decreases of less than 1% year on year.

Soft drinks remains the category with the largest price increases, with overall prices up 2.4% year on year having been escalated in April 2018 by the advent of the UK sugar levy.

Meat, fish and poultry was a heavy driver of the return to deflation in late 2018 as prices were falling by 3.2% year-on-year in August. However, the category is now up 1.1% year on year as concerns persist over possible Brexit-related import tariffs.

The other two categories in inflation in February were bakery (up 1.2%) and biscuits, confectionery and snacks (0.6%).

On a month-on-month basis, overall GPI prices fell 0.8% from January to February, led by a 3.2% monthly drop in the price of baby goods, and falls of 2.6% in frozen and 2.5% in the GPI's largest category of dry grocery.

The price of meat, fish and poultry jumped 6.6% in the month to its highest absolute level since March 2014.