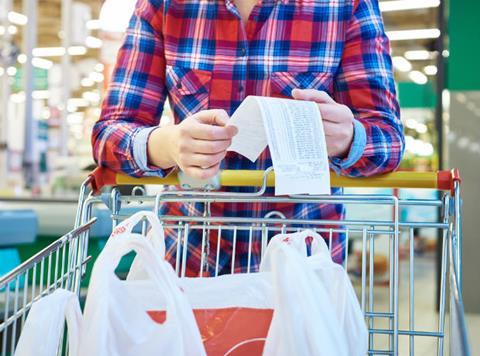 Supermarket prices are growing at their fastest level for almost four years as the pressure on shoppers' wallets continues to mount.

The Grocer Price Index, collated by Brand View from over 62,000 individual SKUs, shows annual supermarket inflation jumped to 2.4% in the month to 1 August 2017, and now stands at the highest level of grocery inflation since the month to 1 October 2013.

Prices have been rising for six consecutive months, but the 0.8 percentage point jump in inflation from 1.6% in the month to 1 July suggests grocery inflation is gathering pace rather than peaking.

On an indexed level, food prices are at their highest level since the month to 1 September 2015. The GPI was set to an index score of 100 in September 2008 and is currently at 112.7.

However, despite wiping out the almost 18 months of deflation after September 2015, the GPI remains 4.1% below the May 2014 pricing peak of 117.

Each of the big four is now running at annual price inflation of at least 1.5%.

The biggest mover in terms of price during the month was Tesco, which jumped to the largest annual level of inflation during the month, having had the lowest level of price increases in the previous period.

Although Tesco's prices were only up 0.5% on the month-on-month basis, that translated to a 3.4% annual price rise compared with a 1.2% annual rise in the month to 1 July.

Asda presented the next highest level of inflation at 2.4%, while Sainsbury's and Morrisons were at 1.6% and 1.5% respectively.

Waitrose - not included in the overall GPI figures - shows annual price inflation of 2.1% during the period.

Overall prices were up 0.5% on a month-on-month basis and are now up 3.4% since the month to 1 December 2016, suggesting the GPI is likely to continue to rise through the rest of 2017.

The GPI shows broad-based category inflation, with 13 of its 14 categories rising year-on-year.

By some distance the biggest increase was in meat, fish and poultry, which jumped 4.6% year on year during the period.

The rapid price increase in the category is especially notable given prices were decreasing by almost 5% less than a year ago. Prices in the category have rocketed by 7.8% in just nine months.

Other significant category risers included biscuits, confectionery and snacks (+3.5%), chilled (+2.9%) and dairy (+2.6%).

Only soft drinks are now showing annual price deflation, down 1.3%, after household goods nudged into price inflation of 0.4% during the period.

On a month-on-month basis, there was a notable spike in overall dairy prices - up 3.3% in just one month - while biscuits, confectionery and snacks were up 2.6% and deli up 2%.