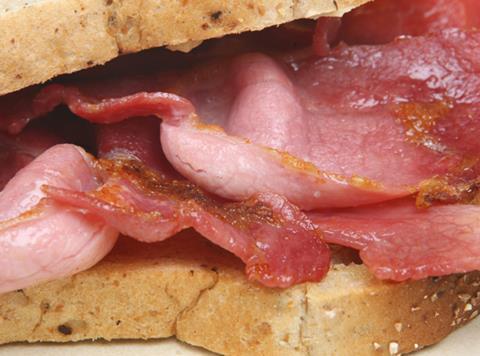 Health campaigners have called on the new government to bring in mandatory salt reduction targets, after new research showed what they claim are "astonishing" levels of salt in supermarket bacon products.
Action on Salt, based at Queen Mary University of London, said its survey revealed the "dismal lack of progress" made by the food industry in meeting voluntary salt reduction targets.
The saltiest bacon offender was Tesco Finest Unsmoked 8 Wiltshire Cure Back Bacon Medallions. With 5.3g/100g of salt, the product had more than twice the concentration of seawater, and the equivalent salt content of a Burger King hamburger in just one rasher, said AOS.
Of the 171 bacon products it surveyed, 86% had a salt concentration equal to or greater than seawater. Some bacon contained nearly four times more salt than competitor brands, which AOS said showed lower-salt bacon was easily possible.
AOS said the survey showed a worrying lack of progress among supermarkets on salt reduction. It carried out a similar survey in 2012, and of 33 directly comparable bacon products surveyed, it claimed nearly two thirds had either stayed as salty or become more salty since 2012.
Overall, Marks & Spencer seemed to have made the least amount of progress, increasing salt content on average by 0.27g.
The bacon with the biggest reduction was Co-op's Outdoor Bred British Smoked Rindless Back Bacon. In 2012 it contained 3.8g of salt per 100g, while now the figure was at 2.78g/100g.
Public Health England had said new targets for salt reduction would be set in 2019. A 2018 report showed only just over half of the 2014 government salt reduction targets were met by retailers, manufacturers and out-of-home businesses, with none of the targets specifically for meat products achieved.
However, as with plans for a crackdown on calories, progress has been delayed amid speculation over how the new government will approach the obesity crisis.
AOS said it was urging the newly formed government to reignite a comprehensive salt reduction programme, with mandatory targets for salt levels in products that all companies would be expected to meet and strict penalties or levies for those who failed to comply.
"Whilst Boris Johnson has pledged to spend millions of pounds on building new hospitals – many of which will treat the many thousands of people suffering or dying from strokes and heart disease, the prime minister must be reminded that just 1g reduction in population salt intake prevents more than 4,000 premature deaths per year in the UK and costs next to nothing to implement," said AOS chair Graham MacGregor, professor of cardiovascular medicine at Queen Mary University of London.