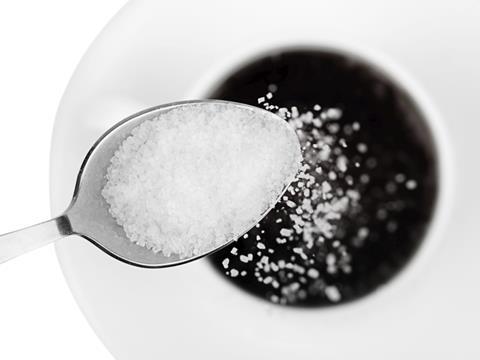 Action on Sugar (AOS) has accused experts leading the government's planned crackdown on sugar of ignoring major flaws in the data used to draw up the proposals.
The campaign group is demanding to know why the Scientific Advisory Committee on Nutrition (SACN) draft proposals on carbohydrates and health did not take into account what was known to be a major "underestimate" of the nation's calorie intake, in the National Diet and Nutrition Survey (NDNS), which was used to underpin the proposals.
In its official response to the SACN review, which ended last week, AOS claims the extent of the "misreporting" risks undermining the government's plans to tackle obesity and urged health secretary Jeremey Hunt to adopt a lower recommended level of individual sugar intake.
SACN admitted its draft report, released in June, that the NDNS figures has been found to under-estimate calorie intake in adults by as much as a third.
Minutes of a SACN meeting - held just weeks before its draft proposals were unveiled in June - show the committee discussed at length flaws in the NDNS survey, with a study showing that reported calorie intake was underestimated by an average of 34% in adults; 29% in older adults, 26% in children 11-15 years; and 12% in children aged 4-10.
"There is evidence that people change their behaviour when participating in a survey, and actual misreporting of what was consumed either intentionally or unintentionally," the minutes record,
In its proposals SACN blamed a "universal problem for food surveys" and said it was "not possible to correct or adjust the intake estimates to take account of under-reporting."
But AOS says the inaccuracies show a need for tougher action.
"SACN relies heavily on the NDNS data for intakes of sugars, data which, as stated in the report, highly underestimates actual intakes yet does not appear to take this into consideration in their final recommendations," said AOS.
It called on SACN to drop its recommendation that a 10% level of daily energy intake from sugar is an "acceptable upper limit" for individuals, despite its proposal for a 5% recommendation for the population as a whole.
"We suggest a more reasonable recommendation would be that free sugars should provide 'less than 5%' for individuals, in line with the recommended population target," it added.
Professor Jack Winkler, former professor of nutrition policy at London Metropolitan University, accused SACN of "seriously underestimating UK sugar consumption".
A SACN spokesperson said: "SACN is currently carefully considering all the responses to the SACN carbohydrates and health draft report consultation. SACN will publish all the consultation comments with the corresponding SACN responses online in due course."