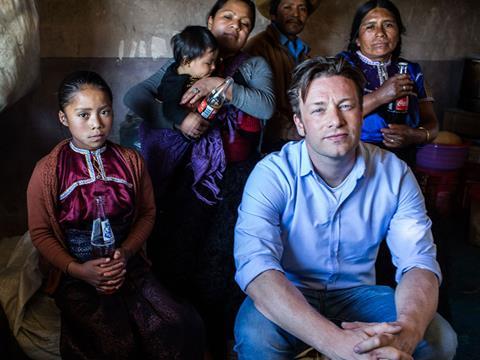 Jamie Oliver describes his call for the government to do a u-turn on a sugar tax as "the most ridiculous context in the world".

With health secretary Jeremy Hunt ruling it out, he has a fair point - even before considering the potential backlash from a public up in arms about Tesco axing sugary children's lunchbox favourite Ribena.

Oliver, unveiled by David Cameron as the government's unofficial childhood obesity tsar, says he's convinced the PM can be persuaded to change course and this week's screening of Jamie's Sugar Rush, a documentary in which the chef declares all-out war on sugar, has given the campaign new life.

As well as shocking scenes of British children having their teeth removed, teenagers diagnosed with type 2 diabetes or patients having had limbs amputated, Oliver claims there is now evidence to back up his "big aim" of the government slapping a 20p per litre duty on all added-sugar drinks, thanks to the case study evolving in Mexico.

In the documentary, Oliver travels to the country where "most mothers combine breastfeeding their children with weaning them on Coca-Cola", cola billboards dominate the skyline and fizzy drinks companies sponsor school chairs. And having brought in a one peso per litre (approximately 10%) tax on sugary drinks last year, Mexico's National Institute of Public Health reports average purchases fell by 6%, with the poorest families cutting consumption by nearly a fifth.

But do the figures stand up as well as Jamie's expertise in Mexican food?

"To suggest the sugar tax in Mexico has been working is a lie," claims Ian Wright, director general of the Food & Drink Federation (FDF). "Consumption is back up to the levels it was before it was introduced.

"On top of that only 4% has been used for healthcare and 1,700 direct jobs were lost in the Mexican soft drink industry last year as a result."

The FDF points to alternative figures from the Mexican soft drink association (Asociación Nacional de Productores de Refrescos y Aguas Carbonatadas), which claims the sector saw a 2.5% fall in sales volumes, reducing calorie intake from sugar-sweetened beverages by just 6.2 calories per person per day.

So, who are we to believe?Professor Jack Winkler, emeritus professor of nutrition policy at London Metropolitan University, says it is far too soon to use Mexico as the basis for bringing a tax to the UK. "There have been four studies on the effects of the tax in Mexico and all four are suspect," he says. "In all four cases, organisations have put out a press release or staged a press conference but not given the data on which their findings were based. Three of these came from the industry side and the other from the body which Jamie Oliver talks about."

The National Institute of Public Health report was championed by the Mexican Alianza por la Salud Alimentaria (Alliance for Food Health), a campaign group calling for further health taxation, whose leader features prominently in Oliver's film.

The FDF points out that the study only featured households in cities rather than the entire population and that the data collected was for households representing only 30% of soda consumption. "This study was based on a consumer panel, which is not a reliable way of getting data about consumption," says Winkler. "Whatever else, Mexico is not a good model for the UK."

He's not the only senior figure in the anti-sugar campaign lobby to admit a tax is not the answer. "A sugar tax would hurt and reformulation of these products rather than a tax is the long-term solution," says one leading source. "But the NHS is in dire straits because of the obesity crisis and we have to act now."

Oliver's team points also to a report by WHO technical staff in September, which claims the Mexican tax could have "a substantial impact on reducing the prevalence of obesity" but this is also light on proof and Malcolm Clark, co-ordinator of the Children's Food Campaign, which has joined forces with Oliver to launch a potentiation in favour of a UK tax, admits evaluation of the Mexico situation is "incomplete". "None of these reports have been peer-reviewed, and some of these reports are by interested parties, for example the New Zealand Taxpayers Union and from a spokesman for soft drinks manufacturers," he says.

With both sides accusing each other, Public Health England, which long ago identified soft drinks as "low-hanging fruit" for taxation, says there is as yet "no final date" for the delayed publication of its evidence review of fiscal measures to tackle sugar consumption, which had originally been due in July.

A spokeswoman said the review would examine the "totality of existing evidence on fiscal measures".

Yet in the absence of any new definitive research, it's hard to see how Cameron could justify such an enormous volte-face if, that is, he is going on scientific advice, rather than gut feeling.

But that, Oliver openly admits, is exactly his tactic. His wooing of Cameron has, he says, been as a parent not a politician - and one in his last term of office, which may just be about leaving a legacy of tackling childhood obesity.