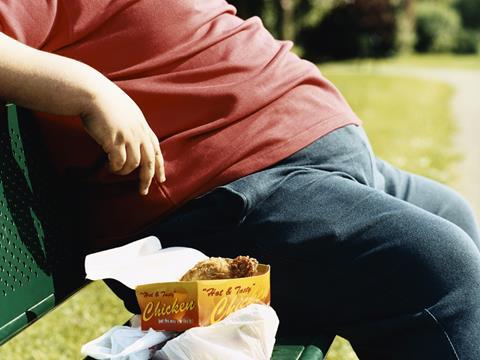 A new international alliance of doctors today launched an onslaught against the government's Eatwell Guide, branding it a diabetes "timebomb" and urging the government to tell consumers to "bring back the fat" to their diets.

The Public Health Collaboration (PHC), led by Dr Aseem Malhotra, a consultant cardiologist and senior advisor to the National Obesity Forum, claims the government has made a huge mistake in its launch of a revised version of the dietary guidance, which came out in March.

Whilst urging consumers to cut down on sugar, the advice was for a diet still largely based on products including potatoes, bread, rice, pasta or other starchy carbohydrates.

PHC claims the government should have advised consumers to cut out sugar completely and follow a diet that's much higher in fat, which it claims has been wrongly demonised by previous health guidance.

The group has the support of a long list of medical supporters from countries such as Australia, New Zealand and the US, including the outspoken American doctor Professor Robert Lustig, as well as the National Obesity Forum.

"The change in dietary advice to promote 'low fat foods' in 1977 and 1983 in the US and UK respectively is perhaps the biggest mistake in modern medical history, resulting in devastating consequences for public health," said Dr Malhotra, who described the Eatwell Guide as "a joke".

"Sadly this unhelpful advice continues to be perpetuated," he said. "The current Eatwell Guide from Public Health England is in my view more like a metabolic timebomb than a dietary pattern conducive for good health.

"We must urgently change the message to the public to reverse obesity and type 2 diabetes. Eat fat to get slim, don't fear fat, fat is your friend. It's now truly time to bring back the fat."

Professor Lustig, professor of paediatrics at the University of California, added: "Einstein's theory of insanity is doing the same thing over and over again, and expecting a different result.

"The newly elaborated science of nutrition documents the reasons for our futility in dealing with the obesity and diabetes epidemics, yet national guidelines continue to espouse no changes in practice. To its credit Brazil just issued its dietary guidelines, and it was about real food rather than about nutrients or calories. Likewise, this new National Obesity Forum and Public Health Collaboration guideline focuses on real food over processed food, and makes the case that the entire healthcare complex needs to relearn nutrition in order to be effective advocates for their patients. I couldn't agree more."

A combined report from the Collaboration and the Forum cites a survey from investment bank Credit Suisse, which shows a "substantial level of misinformation" among doctors and nutritionists in relation to dietary advice. It said the most "shocking" was that 83% of doctors thought butter was worse than margarine and 66% believed vegetable oils were beneficial for health.

"Given the immediate health threat posed by diet-related disease we believe that it is imperative that education curricula for undergraduate, postgraduate and continuing medical education incorporate up-to-date evidence-based nutrition," says the report.
"People want and need dietary guidance which is based on sound science and communicated in a meaningful and consistent way," said Tim Rycroft, Corporate Affairs Director at the Food and Drink Federation. "The majority of the recommendations in this report are based on opinion rather than evidence, adding to confusion around information on nutrition and making it harder for the general public to know what they should be eating."
Dr Alison Tedstone, chief nutritionist at PHE, added: "In the face of all the evidence, calling for people to eat more fat, cut out carbs and ignore calories is irresponsible. Unlike this opinion piece, our independent experts review all the available evidence - often thousands of scientific papers - run full-scale consultations and go to great lengths to ensure no bias. International health organisations agree that too much saturated fat raises cholesterol, increasing the risk of heart disease and obesity is caused by consistently consuming too many calories."