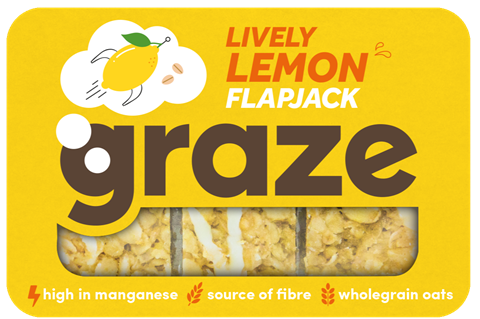 Graze has announced a move to ramp up its healthy eating credentials, kicking off an initiative to halve the sugar content of its cereal bar portfolio.
The overhaul follows 18 months of recipe development, which will see chicory root fibre used as an alternative to sugar by 2020 across the entire range of bars – which comprises flapjacks, protein bites and superfood bites.
The change came in response to "55% of consumers looking to reduce the amount of sugar in their diets" said Graze. "The introduction of the naturally sweet root fibre will help consumers enjoy healthy eating without having to compromise on taste."
The first reformulated cereal bar variant, Lively Lemon Flapjack, will roll out before the end of this month. It contains 13g of sugar (down from 26g) per 100g – which was "50% less than the average cereal bar" according to Graze.
The brand's head of health & nutrition strategy, Eleanor Freeman, said it was "committed to helping customers enjoy healthy eating by offering delicious, wholesome snacks".
Graze intended "to continue to push the boundaries of healthy eating innovation as we seek out natural, creative alternatives for our grazers without compromising on taste" she added. "Our Lively Lemon Flapjack is just the beginning, and we're looking forward to fulfilling our health mission over the coming year."
The sugar reduction initiative arrives two months after Graze became part of Unilever in a £150m acquisition by the Anglo-Dutch supplier.
"Accelerating our presence in healthy foods and out of home, this is an excellent strategic fit," Nitin Paranjpe, president of Unilever's food & refreshment arm, said of the deal in February.
Launched in 2008 as a direct-to-consumer brand, Graze's main focus is now grocery, where its better-for-you snacks amassed sales last year of £85.6m – a 19.9% rise in value [Nielsen 52 w/e 29 December 2018].
Last year also saw the brand drop its packaging's rustic brown design after 10 years, replacing it with a palette of brighter colours across nearly 400 SKUs in retail.