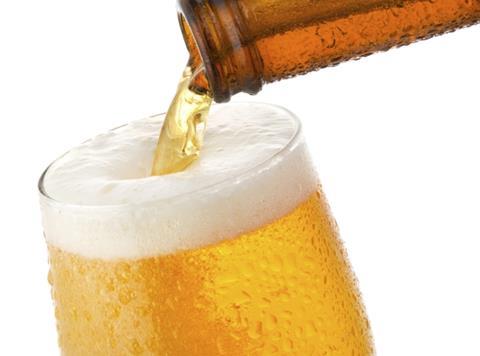 Pressure from the health lobby is holding back development of higher-strength premium beer in the UK, industry observers have suggested.
The craft beer boom has helped drive demand for high-strength beers, said Mintel, which this week published research that found a quarter of beers launched globally last year were 6.5% abv or above, up from 15% in 2012. Between 2011 and 2014, the total number of higher strength beers launched globally increased by 280%.
In the UK, however, only 5% of launches last year were above 6.5% abv, compared with 8% in 2013.
Politics had played a role in UK attitudes to higher-strength beers suggested Mintel global drinks analyst Jonny Forsyth. "Brands like Carlsberg Special Brew have given high-ABV beers a bad name, and the big brewers have agreed to cut a number of alcohol units from UK sales," he said. "The UK is also unusual in that it has The Portman Group, which is very proactive in voluntarily initiating responsible drinking rules."
Policies such as Ipswich's Reducing the Strength Campaign – which encouraged retailers to voluntarily ban beer and cider above 6.5% abv - discouraged brewers from producing higher strength beers, said former Well's & Young's boss Nigel McNally, now MD of Brookfield Drinks.
"If you're a producer you're not going to take a risk in producing above 6% even though you've got a market opportunity and you know the drinker wants to buy those beers," he added. "It's prohibition through the back door."
The Mintel research found 35% of UK beer drinkers said they preferred beer with a high alcohol content, compared with 14% who said they preferred low-alcohol beer. When asked which factors they would associate with premium beer, 44% said 'It has a higher percentage alcohol content (ABV) than other beers' – almost the same as the 45% who said 'Made by a craft/small-scale brewer'.
% of beer drinkers (by age) who think higher-abv beer is more likely to be premium

% of beer drinkers (by age) who say they prefer a higher-abv beer

"The consumer identifies high-strength beers as being better quality," added McNally. "Their choice is being restricted by the health lobbies, The Portman Group, local councils, police and trading standards, who have some kind of vendetta against high strength beers and ciders," he added.
But Sir Ian Gilmore, chair of the Alcohol Health Alliance, dismissed suggestions that health lobbyists were harming NPD, pointing out that two independent assessments of the Responsibility Deal – which saw the industry pledge to remove a billion units of alcohol from the market by December 2015 – suggest it has had little impact on innovation.
"I don't think it's always helpful to compare with other countries," he added. "We are where we are, and we know that many of our problem drinkers gravitate to the cheapest, strongest drinks.
"People are often unaware of the strength of drinks, and they're unaware of how much they're drinking."