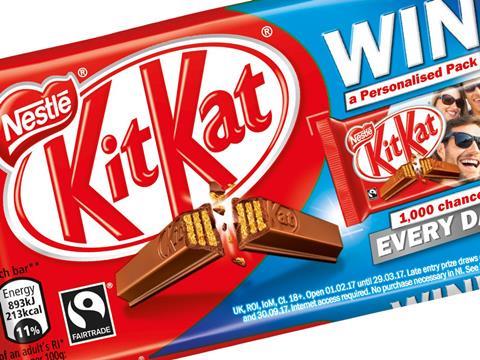 One of the world's biggest food companies has called on the government to turn to regulation in the fight against obesity.

With just days to go before Public Health England is due to announce industry reformulation targets, Nestlé claimed the voluntary approach under the Childhood Obesity Plan would not go far enough to tackle the health crisis.

In an exclusive interview with The Grocer and in her Saturday Essay, Dame Fiona Kendrick, chairman and CEO of Nestlé UK & Ireland, urged ministers to bring in regulation that could ensure a level playing field between supermarkets and their suppliers and the "fragmented" out-of-home sector, as well as incentivise investment in making products healthier.

The announcement comes just days after Nestlé made a voluntary commitment to slash 10% of the sugar from its confectionery by next year.

But the manufacturer claimed talks on reformulation, which began in September, could only achieve limited success.

"We have played and will continue to play a key role in the voluntary plans," said Kendrick. "But the question is, is voluntary action going to be enough? Is it really, really going to provide the incentive we need?"

Turning her fire on the out-of-home sector, Kendrick said: "There are some organisations, such as the British Hospitality Association, that are doing a great job but they are not the entire industry. We think this has to be the entire industry across all channels."

The Grocer understands there has been widespread disquiet among suppliers at the lack of participation by the out-of-home sector in the recent voluntary talks on reformulation.

"There's obviously a feeling some of them have not been at the party," said PHE director of diet and obesity Alison Tedstone. "They have been but they can do much more."

One senior supplier source added: "If PHE are going to be addressing things like calories out of home they really will have to start thinking about fragmented independents. There are massive numbers of kebab shops. Just think about the amount of calories you get from those horrible chicken shops."

Tedstone said PHE was attempting to ramp up its talks with the OOH sector, targeting the biggest companies first.

"We're bringing in a team to work with the OOH sector specifically," she said. "We've hired in new analysts, some nutritionists."

However, she admitted it was only a team of around four covering all OOH businesses. "We will focus on the volume providers because they are providing about 50% of the volume but we will provide guidance for the intendents as well. OOH eating is not a treat. We are taking it very seriously we want to learn roe about the OOH sector. But also we're trying to understand their data more."

The supplier source claimed the BHA had only attended two of the nine sector reformulation meetings, with vast swathes of OOH companies had not been represented at all.

"PHE have gone for a model where they've gone for the big companies the likes of Starbucks, MacDonald's and Costa - and are hoping that will have a big drag effect but this was the Achilles heel of the Responsibility Deal," he said.
Click here to read Fiona Kendrick's Saturday Essay column on the same subject.