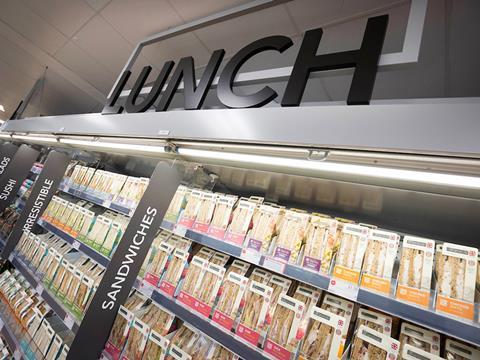 It was fitting considering the general sense of chaos in government at the moment that the Department of Health's hugely delayed consultation on a ban on supermarket promotions should end up being snuck out under cover of darkness.
Late on Friday, the DH decided it was finally time to put out its consultation, even though this inevitably meant it would be completely subsumed by the debate on Brexit. Officials later told The Grocer that public health minister Steve Brine would not be available to talk about the proposals, because he was too busy with other parliamentary proceedings.
This doesn't exactly say much for the government's commitment to public health as a priority. It also raises the question as to why it has waited since September to get to this point. Perhaps it was waiting for a window in which the policy could shine – a window that never came.
But aside from the terrible timing of the announcement, as a no-deal nightmare looms, there are massive questions to ask about the effectiveness of the government's proposals in the war on obesity.
In case anyone underestimates the scale of the impact of the proposed ban, the list of products in the firing line includes soft drinks, breakfast cereals, yoghurts, biscuits, cakes, confectionery, morning goods, puddings, ice cream, sweet spreads, fruit-based drinks, milk-based drinks, ready meals, pizzas, meat products, savoury snacks, sauces and dressings, as well as prepared sandwiches.
Under the proposals, any HFSS product in these categories, (and more not listed), would be banned from selling their products at checkouts and aisle ends. Front-of-store and volume-based promotions would also be off limits – not just the much written-about bogofs.
That raises big questions about the impact on inflation – the last thing an industry petrified about Brexit needs right now.
Brine, an HFSS name if ever there was one, was quick to talk about the benefit to the NHS in the official press release. However, he shied away from the issue of the impact on prices, just as he did from facing questions.
Yet in 2014, when it first drew up the evidence for its war on sugar, PHE admitted that with promotions accounting for 40% of food and drink take-home expenditure, a typical household would have to spend 16% more (or an extra £630 a year) if products were at full price.
Impact assessment
Indeed, the government's own impact assessment admits removing the discount offered by volume promotions will increase the average price of goods and "likely increase people's expenditure on food and drink".
As a counter to this it relies completely on the "highly competitive nature" of the sector to adjust prices overall so average prices eventually return to pre-regulation levels. How that would tackle obesity, given it would necessarily mean the everyday prices of HFSS products coming down en masse, it does not explain.
As for the price to be paid by business, the impact assessment puts the new cost at a minimum of £80m a year when it comes to the restriction of location of promotions around the store, plus a further £30m to bring in the changes.
And while it may have ducked banning price promotions full stop, its suggestion of banning volume deals from HFSS products would, it admits, cost retailers and suppliers a further £450m over the next 25 years.
And the impact assessment admits that much of this is based on sketchy evidence and assumptions.
Take the question of guilt lanes. It's moot to assume that banning HFSS products from prominent locations will automatically mean they are replaced with other, healthier food and drink promotions and certainly not ones that generate the same sales as the promotions currently on offer.
Unless suppliers and retailers come up with other products to replace the huge list of products above, the hit to industry will be much greater than £80m a year.
As one industry source puts it: "A category like biscuits is going to find its potential for promotion completely wiped out. What are retailers going to do, replace biscuits on aisle ends with carrots?
"Those aisle ends are going to be very interesting when they are just filled with row after row of detergent."
DH also admits it has no idea of the possible consequences to suppliers who find themselves in the firing line of the promotions ban, as well as other policies such as calorie reduction or the sugar tax.
"The impact will be greater for some businesses that are affected across multiple policies, such as large food manufacturers and retailers," it says. "Due to the complexity of food manufacturing and retailing and the commercial sensitivity of any business arrangements between manufacturers and retailers, it is not possible to attribute specific impacts directly to individual businesses. Therefore, it is not possible to identify the possible knock-on consequences should any individual businesses be disproportionately impacted."
Yet despite admitting it is going into the consultation blind to the impact on businesses, the DH has decided on the mechanic it will use, the so-called nutrient profile, to make the crucial decision on what products are considered as 'junk' for the purposes of the clampdown.
'Demonised' products
This is the same nutrient profile The Grocer revealed in March last year could lead to thousands more products being demonised under the tightening of its specifications in the wake of the war on sugar.
That review is currently on hold after PHE was bombarded with responses, many of them from suppliers whose products face being effectively banned from promoting, despite leading the way on reformulation.
As things stand, among those to be barred include Petits Filous yoghurts (recently held up as an example of reformulation by PHE) and Lucozade, which spent millions reformulating its entire lineup of drinks and has again been used a poster child.
It's little wonder companies are increasingly asking questions about how far they should go when it comes to co-operating on voluntary reformulation, if this is how they are rewarded.
In fact, given the range of products involved, and the commitment to use the nutrient profile to decide which ones qualify, it means the list of products in the firing line is much wider than that under alternative proposals being developed in Scotland. This is despite Scotland so often being seen as the more radical of the two governments because of its greater issues with obesity.
Of course, not for the first time, the UK government has left the door open to these proposals being watered down.
For example, one option rather than banning all HFSS volume promotions would allow 20% of a retailer's volume-based promotional sales to come from HFSS promotions, as long as the remaining 80% were from healthier products. Likewise, it is looking at the possibility of thousands of smaller retailers being exempt from some of the restrictions.
It would certainly be no surprise to see ministers backing down over the months to come – not that they have even bothered to come out to defend the proposals as they stand.
Whether this will be enough to stop what sources have described as the "almost inevitable" legal challenge from the industry against its proposals is another matter. As is whether the government is still in place in late 2019, when the proposals are due to come into law.