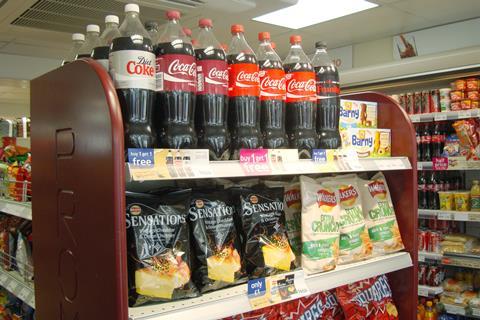 Promotions of food high in fat, sugar or salt (HFSS) are to be banned from prominent locations in stores under Boris Johnson's obesity strategy announced today – despite predictions it could cost the industry £700m a year.
The government said the move would also see a ban on volume promotions for HFSS products such as 'buy one get one free'.
A ban on TV adverts for HFSS products before a 9pm watershed is another key plank of the strategy, following years of consultations on the subject. The PM is said to be determined to step up action on obesity following his near-death experience from coronavirus.
The plans were timed to coincide with a new report from PHE which showed being obese or overweight dramatically increased the risks from Covid-19.
The FDF has warned of dire implications for the industry, already facing the economic impact of Brexit and Covid-19, with research by independent consultant Aldwych Partners last year warning the promotions ban would see a big hike in prices – and warning there is no proof deals on healthier products such as fruit can replace the income that would be lost.
Advertising bosses today warned of a massive commercial blow from the plans for a TV watershed, with the government set to consult on whether the ban should be extended to cover all times of the day online.
Ministers cited Nielsen analysis commissioned by Cancer Research, exclusively revealed to The Grocer in February, which found almost half (47.6%) of all food adverts shown during September 2019 on ITV1, Channel 4, Channel 5 and Sky One were for HFSS products.
Read more:
Despite speculation of a Johnson U-turn on his opposition to "nanny state" taxes, today's proposals included no plans for an extension of the soft drinks sugar levy to cover other products, although it is still believed to be under consideration by the Treasury.
Health Secretary Matt Hancock said: "To help support people we need to reduce unhelpful influences like promotions and adverts that affect what you buy and what you eat. We know obesity increases the risk of serious illness and death from coronavirus – so it's vital we take action on obesity to protect the NHS and improve our nation's health."
Health campaigners have welcomed the plans, which as well as a major campaign called Better Health, also include a review of whether the UK's front of pack traffic lights labelling scheme is effective, amid calls for it to be mandatory – as well as a consultation on whether calorie labelling should be brought in for alcohol.
"There has never been a more important time for the government to take the bold, courageous action it has long promised. The inclusion of world-leading restrictions on junk food advertising is a real game-changer," said Sustain deputy CEO Ben Reynolds.
"Whilst it is not a silver bullet, it has been the missing ingredient in countless government strategies over the years to tackle obesity. We have been calling for a 9pm watershed on junk food advertising for over a decade. This will help make it easier for people to make healthier choices and remove one of the ways in which every day we're nudged towards unhealthier options."
However, the moves were slammed by FDF COO Tim Rycroft, who said: "It is extraordinary that the government is proposing a ban on promotions of food and drink in retail at such a precarious economic time.
"With household budgets more stretched than ever before, the Scottish government recently reversed its decision to press ahead with promotional restrictions. They said the Covid crisis had rendered their impact assessments meaningless. Why are things different in England?
"Government is pulling in different directions. From August the chancellor is paying for people to eat out whilst the health secretary is proposing banning promotions on the same foods in supermarkets."
Meanwhile, the out-of-home sector faces new laws which will require large restaurants, cafés and takeaways with more than 250 employees to add calorie labels to the food they sell.