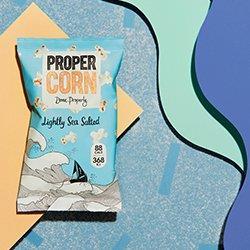 Propercorn has said it has fully resolved a technical issue at its third-party manufacturer that caused some packs of its Lightly Sea Salted popcorn to contain significantly more fat than declared on the label.
The issue came to light late last year after an independent laboratory test by ALS – commissioned by a third party and seen by The Grocer – found packs of the SKU contained as much as 25.3g of fat per 100g instead of the 14.5g stated on the pack.
Propercorn said it took immediate action in partnership with its local Environmental Health Office, and traced the problem back to too much oil being used by its third-party manufacturer. "An investigation into how this could have occurred is still ongoing, but has been complicated by significant recent production and personnel changes at our third party manufacturing site, as well as personnel changes within our business itself," the company said.
"Following our investigation, we confirmed that a reduction in oil addition was required. This was immediately actioned to align with our current on-pack information, bringing the level back to what it always has been."
New packs with the adjusted recipe and therefore the correct fat level of 14.5g were now in the market, the company said. It added it was possible some packs with the old formulation were still in the market but stressed this was "unlikely due to the speed at which our packs are sold and how quickly our technical team reacted to the problem".
Propercorn said it also communicated to its retail customers that there had been a technical issue. There is no legal obligation on companies to issue a product recall if – as in this case - food safety isn't at stake.
Growing controversy
It comes as the accuracy of nutrition labelling is in the spotlight more broadly after laboratory tests on Porky Lights low-fat sausages suggested the bangers may contain more fat than declared on the label. The makers of Porky Lights, G White Co, has disputed the claims and produced its own laboratory tests to prove it declared the fat content correctly.
The company's MD, Chris White, said: "The current claims about the nutritional content of Porky Lights sausages are grossly misleading. G White & Co have a stringent and regular testing process, which can be entirely substantiated by independent UKAS accredited laboratories. The most recent UKAS accredited tests confirm that Porky Lights are indeed 3% fat and 78 calories per sausage."