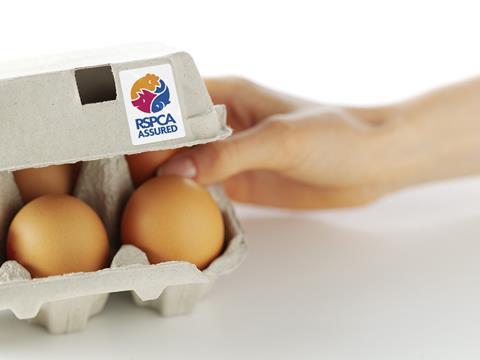 The RSPCA's Freedom Food animal welfare scheme is targeting a 200% increase in the amount of products certified under its revamped RSPCA Assured brand within five years.

Speaking as the scheme unveiled its corporate plan until 2020 and began rolling out its new corporate identity and consumer logo, CEO Jeremy Cooper said it planned to significantly increase the number of certified products, and to add bass and bream to the species it certified.

Some 2,000 products are currently assured by the 20-year-old scheme across 11 categories, including laying hens, dairy, salmon, sheep and pigs. Rebranding it as RSPCA Assured would significantly improve consumer recognition, added Cooper.

"Greater recognition of the new label means more people will choose RSPCA Assured products," he said, noting research last year that revealed 96% of consumers recognised the RSPCA brand, compared with just 24% for Freedom Foods.

"We estimate the amount of RSPCA Assured labelled food could increase by as much as 200% in the next five years," he added. "The more people choose RSPCA Assured products, the more supermarkets will stock them and more farm animals will have a better life."

Sainsbury's is currently the retailer with the highest number of certified products, followed by The Co-op Group, McDonald's and Aldi. But Cooper hinted Freedom Foods would also be targeting other retailers such as Tesco, Morrisons and Asda in a bid to increase the number of RSPCA Assured products they stocked.
The new identity will be supported by a major promotional push.

The scheme's key objectives for the next five years also include becoming financially self-sufficient by the end of 2019.