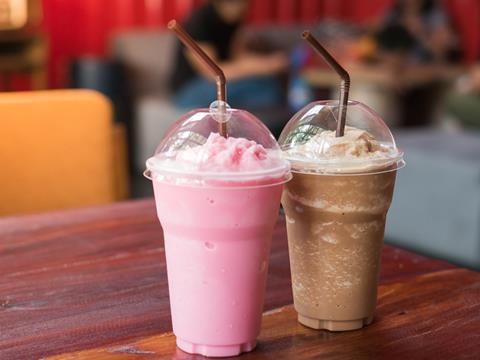 Health campaigners have attacked the "appalling" lack of transparency about nutritional data in the out-of-home sector, after a report showed a raft of products were ignoring sugar reduction targets.

A new study of milkshakes sold by high street restaurants and fast food chains, carried out by Action on Sugar (AOS) found some products had "shocking" levels of sugar. The group said in many restaurants there was no nutritional labelling at all.

Out-of-home companies that do not publish their nutrition information online or at their outlets included chains such as Byron Burger, Creams, Ed's Diner, Frankie & Benny's, Handmade Burger Co and TGI Fridays, it said.

When it came to sugar levels, the milkshake survey ranked Toby Carvery as the biggest offender. Its Unicorn Freakshake contains 39 teaspoons of sugar - more than six times the recommended daily amount of sugar for a seven to 10-year-old.
The next worst offender was Five Guys' Banana & Chocolate Shake with 37 teaspoons of sugar - the equivalent of more than four cans of cola.
Nutritionist Kawther Hashem, researcher at AOS based at Queen Mary University of London, told The Grocer: "The biggest issue is the sheer lack of nutritional data and transparency made available to customers - especially in the American diner type venues.

"Children and parents are being given no prior warning that certain milkshakes contain 30-plus teaspoons of sugar, causing further irreparable damage to their teeth. It's high time the OOH sector became more responsible for their actions.

She added: "Undoubtedly some of these milkshakes contribute to excess sugar and calorie intake, and it is shocking this information is hidden from the consumer, who would struggle to find it. It is time the government introduced legislation to force companies to be more transparent about what is in their products by displaying clear nutrition information online and in the outlets, at all times."