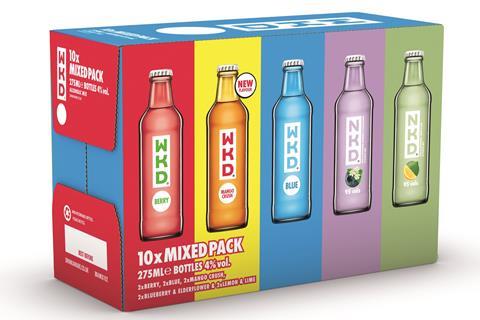 Action on Sugar has called for the sugar levy to be applied to alcopops and RTDs.
The campaign group said today it believed the category was "unnecessarily high in hidden sugar and calories" and "should be forced to reformulate immediately to the agreed criterion set by the government in the Soft Drinks Industry Levy".
It conducted a survey of the category, highlighting what it called "outrageous" levels of sugar in drinks such as WKD, VKD Blue and Malibu Cola. A 700ml bottle of WKD, for instance, contains 59g sugar per pack.
It was "possible to make this type of drink with much less sugar", argued the group, highlighting drinks such as Tanqueray's Sevilla Gin & Tonic (18g sugar per 275ml bottle) and Sipsmith London Dry Gin & Light Tonic (3.3g per 250ml).
However, the report does not appear to have taken pack size into account when comparing sugar content. A 750ml bottle of Tanqueray's Seviilla Gin & Tonic RTD would contain sugar in the same region as a 700ml bottle of WKD.
"The current system of the self-regulation of alcohol labelling isn't working and the industry is not taking its responsibilities seriously," said Ian Gilmore, chair of the Alcohol Health Alliance.
"Shoppers who buy alcohol get less information about what's in their drink than those who buy milk or orange juice. This is simply outrageous."
Yet Christopher Snowdon, head of lifestyle economics at the Institute of Economic Affairs, argued the sugar tax was "supposed to be about childhood obesity, not interfering with the free choices of adults".
"The tax on pre-mixed alcoholic drinks is at least four times higher than the tax on sugary drinks. Action on Sugar and the Alcohol Health Alliance are kidding themselves if they think that adding 6p to price of a gin & tonic is going to have any effect on the nation's sugar consumption.
"Britain has some of the highest alcohol taxes in the world and is one of the few countries to have experimented with a sugar tax. These sin taxes raise the cost of living and hit the poor hardest. Alcohol duty should be cut and the sugar tax abandoned."
The implementation of the sugar tax has seen value sales surge across the carbonates category this year, pushing prices up an average of 4.4% [Nielsen 52 w/e 7 September 2019].
But in September, Chancellor of the Exchequer Sajid Javid admitted the Treasury had swallowed up revenues raised through the sugar tax that were supposed to support children's health initiatives.