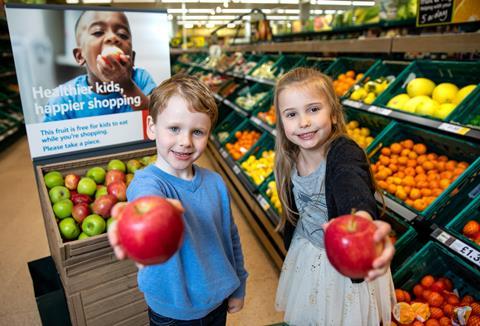 Tesco's Free Fruit for Kids initiative has seen more than 100 million pieces of fruit handed out to children in the three years since it launched the scheme.

The giveaway sees parents pick fresh apples and pears from dedicated stands in the fruit and veg aisle for their children while they shop.

Tesco first launched the scheme in 800 stores in summer 2016 - the idea of Maria Simpson, a checkout worker at the Brigg superstore in Lincolnshire.

"We're incredibly proud that kids across the UK have been able to enjoy 100 million pieces of fruit," said Tesco chief customer officer Alessandra Bellini.

"We know that encouraging children to eat more fruit can sometimes be tricky and we hope that this helps children pick up healthy eating habits early."

The initiative forms part of what Tesco described as its continued commitment to making it easier for customers and staff to live more healthily.

This has included the removal of more than 8,000 tonnes of sugar, fat and salt across a range of 2,000 products including breakfast cereals, yoghurts and ready meals through the ongoing reformulation of its own-label products.