Jamie Oliver danced like a lunatic on live TV as news of a tax on sugar-heavy soft drinks broke in 2016, but the industry didn't quite share his enthusiasm.
Though the following weeks and months saw politicians tweak the rates and the reach of the so-called sugar tax, with details only finalised via new chancellor Philip Hammond 12 months later, the overriding consensus from category bigwigs is that this will be a bitter pill for the industry to swallow.
Want to know more? Ask the experts at The Grocer's
upcoming webinar
A free hour-long webinar exploring all the ramifications of the Sugar Levy will be broadcast by The Grocer at 11am on 30 January.
With a panel bringing together top suppliers, buyers and consumer experts, the webinar will look at the likely impact of the levy when it comes into force in April 2018, exploring timings, reformulation efforts, the role of artificial sweeteners, how retailers are responding and the likely impact on prices - as well as putting your questions to the panel.
To be in with a chance of putting your question to the experts, make sure you register by Monday 8 January at thegrocer.co.uk/sugarlevywebinar .
And not only because the principle of taxing away obesity is a massive bone of contention.

The levy, which will come into force in April, might be set to raise £504m for the Department of Education, but that will come via an extra cost slapped on 2.8 billion litres of soft drinks, resulting in £132m in lost sales and the loss of 4,000 jobs, warned Oxford Economics in a sombre impact assessment in August 2016.

The levy will "damage thousands of businesses across the entire soft drinks supply chain, from farmers to manufacturers, convenience stores and the pub and restaurant trade," claimed Gavin Partington, director general of the British Soft Drinks Association.

But is there a silver lining? Can innovative soft drinks brands discover opportunities and find a way to turn lemons into (low-sugar) lemonade? "One hundred per cent," says Stephen Oldfield, agrifood leader at PwC. "There is an opportunity here to grab the growth of the health and wellness category, and an opportunity for healthy, nutritious food and drink."

Which in some respects is nothing new. The commercial sense in appealing to more health-conscious consumers was a lucrative gap in the market spotted by soft drink brands way before the likes of Oliver stuck his celebrity nose into the mix. Coca-Cola execs reportedly began musing over the idea of a no-sugar alternative as far back as the 1960s, as shoppers drifted to low-calorie alternatives, though it took until 1980 to launch Diet Coke. Three decades on, along with Coke Zero, low sugar and sugar free accounts for 43% of Coke's UK sales, says the brand.

And across all fizzy drinks brands, low or no-sugar options now make up half of the top 10 bestsellers, according to IRI data, against a backdrop of shoppers increasingly marginalising sugar.

"Most businesses in food and drink are pretty adept at responding to consumer demand and self-evidently there has been a shift in consumer tastes," says Partington. "Even before the response of the soft drinks sector to the tax, the industry was way ahead of other categories in terms of sugar reduction and reformulation. But undeniably it is the case that since the tax was announced it has increased the pace of change."

Avoiding cost is undoubtedly a big driver behind that increased momentum. As of April, any fizzy drink with more than 5g of added sugar per 100ml will face a cost of 18p per litre (or 6p per 330ml can), increasing to 24p per litre (8p per 330ml can) for drinks with more than 8g of sugar per 100ml. Brands that simply pass that on to their consumers could face a serious backlash, with 40% of shoppers saying they'd cut back if the tax were added to the price of a drink, and 16% insisting they'd stop altogether, according to Mintel.
Good business opportunity
But forward-thinking brands are also recognising that sitting below the threshold could become a profitable point of differentiation in itself.
"It's fair to say consumers are creating a demand for these low-sugar varieties," says Jenny Rosborough, campaign manager at Action on Sugar. It's already happened elsewhere. In Coca-Cola-guzzling Mexico, a levy introduced in 2014 has seen an average annual decline in sugary soft drink consumption of 7.6%, while sales of untaxed alternatives are up 2%, according to the country's Institute of Public Health.

Sitting below the threshold "gets people talking, be it retailers or consumers" says Kerstin Robinson, co-founder of low-sugar soft drink Nix & Kix. "If it was just the retailers trying to comply that's one thing, but the consumer is specifically seeking out soft drinks below the threshold. It's a no-brainer to say yes. That seems like a very good business opportunity."
Six clean slate brands that could benefit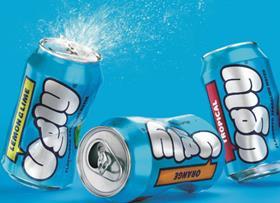 Ugly Drinks
Launched : January 2016
Listings : Whole Foods Market, Holland & Barrett, Selfridges, Amazon and Planet Organic
What is it? Water. Bubbles. Fruit. All in a can. And nothing else. Founded by Joe Benn and Hugh Thomas, who worked together at Vita Coco when they spotted a mass movement away from sweetened drinks in 2014.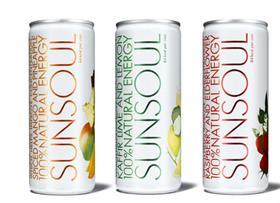 Sunsoul
Launched : January 2016
Listings : Sainsbury's, Selfridges and Boots
What is it? This JMS 'natural energy drink' contains just spring water, fruit juice and botanicals, with no sugar, synthetic energy or artificial ingredients. Plus it has half the calories of 'full-fat' Coke, and gourmet flavours like kaffir lime or spiced mango.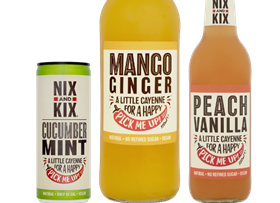 Nix & Kix
Launched : February 2017
Listings : Waitrose, Tesco and Ocado
What is it? Positioned as a healthy grown-up alternative to alcoholic drinks, the three-strong lineup all contain a cayenne kick and have zero artificial additives. Flavours include mango & ginger, cucumber & mint and peach & vanilla.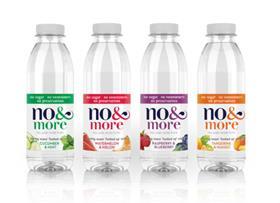 No&More
Launched : May 2015
Listings : Sainsbury's, Waitrose, Amazon, Planet Organic and Whole Foods Market
What is it? Premium flavoured water brand No&More relaunched with a new name and new look in August, having previously been trading under the name Nuva for two years, to underline its zero calorie credentials.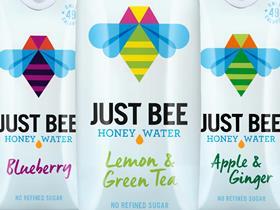 Just Bee
Launched : March 2015
Listings : Waitrose, Sainsbury's, Selfridges, Ocado and Holland & Barrett
What is it? It was brave to turn down an offer from Dragon Peter Jones in 2015. But it hasn't held the brand back, with the honey-infused spring waters securing a six-figure investment in February 2017.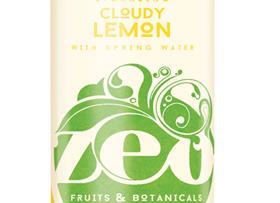 Zeo
Launched : November 2012
Listings : Tesco, Sainsbury's and Nisa
What is it? Soft drinks brand Zeo might not be entirely new on the scene but it did undergo its biggest refresh to date in April 2017, cutting down sugar content and recruiting celeb ambassador Caroline Flack in a bid to appeal to health-conscious millennials.
Which is why no sooner had George Osborne stepped down from the despatch box than some of the UK's biggest brand owners got to work. "The introduction of the soft drinks levy granted us an opportunity to review our portfolio and consider a number of options to ensure our brands remain relevant to consumers," says Dave McNulty, MD at SHS Drinks, which has launched both a reformulated Shloer and Bottlegreen.

At AG Barr, plans to "substantially reduce" sugar content were confirmed only days after the chancellor's speech. Its no-sugar Irn-Bru Xtra launched four months later and the commercial payoff is clear in its latest accounts, where the first new core SKU in the range for 35 years has helped fuel an 8% year-on-year rise in sales to £136m, says the company. In 2018 it will roll out the next phase of its plan to put 90% of its range below the levy threshold, including a reformulated version of its flagship drink. "We have taken our time to get this right and invested heavily in both sweetness and flavour technologies, as well as multiple rounds of consumer research, to ensure we have delivered a very good product match," says marketing director Adrian Troy of the move. "We are confident we can continue to offer consumers what they are looking for and ensure retailers continue to drive sales."
'Consumers are looking for healthier products, brands with more purpose
and more substance''
But reformulation is a risky business. Just ask Lucozade Ribena Suntory (LRS). Though the launch of its new Lucozade Zero in March 2017 couldn't have gone much better, with sales up 83% since it first hit the market, the launch of its reformulated Lucozade Energy in April 2017 fell disastrously flat. Outraged consumers took to social media to brand the new recipe "vile, horrific and comparable to bleach". "When you change a brand as well-loved as ours, some consumers will inevitably notice a recipe change and we expected to see some impact on sales following the brand's reformulation," says sales director Scott Meredith. "We know these shoppers will return to the drinks they love and this is exactly what we're starting to see now."

Perhaps. But it still sums up the inevitable tension within all established soft drink brands between trying something completely new or reformulating much-loved recipes - both of which carry risks. Which is why, while there will always be rewards for superb execution among the soft drinks industry's giants, some of the biggest opportunities sit with new and emerging startup brands.

"Big brands will find this more difficult as they're established in the market and people know what they taste like," says Robinson. "If they change the recipe it's going to be a slightly different product proposition, while for us at Nix & Kix that was a huge opportunity as it didn't come with the same expectations."

Rumours of a looming sugar tax even led Robinson and co-founder Julia Kessler to delay the February 2017 launch of their adult soft drinks range to ensure the recipe tasted right with minimal sugar. From the start "we knew that was something people would look at".

Including investors. The pair secured nearly £500k of funding in November 2017 to expand the business and the impending levy "definitely" helped says Robinson. "It helped a lot."
Room for up-and-coming brands
It's not the only emerging new brand finding favour in the sector (see box, below).

In recent talks with Sainsbury's, Rachelle Lunnon, co-founder of soft drink Sunsoul, says buyers "definitely picked up on" its low-sugar credentials in deciding to give it shelf space. "A lot of supermarkets are wanting natural, healthy drinks at the moment."

And though zero-sugar, zero-sweetener brand Ugly Drinks was dreamed up by founders Joe Benn and Hugh Thomas years before announcement of the levy, after witnessing the paradox of "people buying salad and then washing it down with a can of Coke", the levy has fuelled demand, says Thomas, and not only among supermarket buyers. "The real impact of the announcement for us was a PR and consumer understanding of sugar and sweetener and the products it was in."

As a result "retailers will have no choice but to stock healthier products. Consumers are looking for brands with more purpose, and more substance."

All of which provides a brand new commercial viability to up-and-coming brands in a sector once monopolised by one red can, with the impact spilling over into adjacent categories such as water. Advising a client on the acquisition of a flavoured water business only nine months ago, the levy absolutely played on the mind of Liam McGuinness, director at management consultants CIL. "We looked at the extent to which flavoured waters would be popular in the future. Most are low-sugar or sugar-free and the levy was a key driver behind why that was a good business to buy," he says.

It is a short-sighted brand or retailer then that doesn't see beyond the costs and challenges to the commercial opportunities hidden with the sugar levy.

"There are opportunities for both large brands in terms of reformulations or alternate strategies, and for niche players to come through with products that appeal to a consumer's increased and heightened awareness of the lower sugar alternative," sums up Oldfield. "Opportunities are here for both the large and the small to react, to show agility and innovation. If they come up with the right kind of product then the consumers will reward that."