Support for new regulations on HFSS came from some unusual quarters at last week's Labour party conference. Rather than left-wing firebrands, it was supermarkets Asda and Sainsbury's calling for legislation to level the playing field on tackling obesity.
Asda chief commercial officer Kris Comerford went further, announcing a partnership with Nesta, a charity that recently acquired No 10's so-called Nudge Unit. The Grocer revealed this week the charity is proposing all major food retailers face mandatory targets on health and big fines if they fall short.
So why is Asda leading the charge for regulation and what will its Nesta partnership mean?
Comerford told the conference that government needs to "set the mission" with mandatory targets, allowing the industry to respond with the methodology. Sainsbury's also indicated it would prefer a regulatory approach, rather than voluntary targets, as planned by the DHSC under talks set up under the government's new Food Data Transparency Partnership (FDTP).
As well as setting the cat among the pigeons with a potential rival system of targets – viewed by critics as an attempt to reboot the discredited Responsibility Deal – Asda's move has seen it align broadly with Nesta on health pilots in stores.
Manned by members of the Cabinet's former Behavioural Insights Team, Nesta has increasingly prioritised evidence-based interventions on obesity and says the way to achieve the biggest changes is to regulate supermarkets, who will drag suppliers with them.
Nesta stresses the mandatory targets it is proposing are a separate workstream to its Asda partnership. The tie-up is to run until at least September 2025 and will see Asda act as a "test bed" for ideas to tackle obesity.
High-impact interventions
The partners have pledged to identify "high-impact" interventions through trials online and in store, which could be rolled out across its estate.
"We believe this partnership will help industry move further and faster in tackling obesity," says Nesta's Healthy Life programme director Hugo Harper, adding that Asda was "the most forthcoming" in preliminary discussions.
"What we bring to that is specific expertise in the area but also a suite of methods.
"We've got data systems, designers, we've got the econometrics resource and they have the food environment that we can use as a testbed.
"We needed a partner who was willing to give this a go and the scale of something like Asda is just so much greater than what you could achieve with most studies."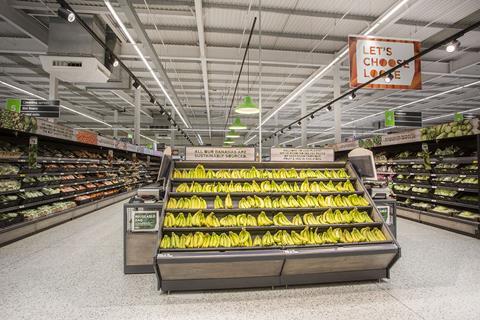 Comerford admits Asda is an unlikely poster child for the healthy lobby and recognises its tie up with Nesta and support for mandatory action will ruffle feathers among rival retailers and suppliers.
"It's true it's not something traditionally Asda has taken a stance on, but as I looked through the plan for the organisation, I said we needed to work with government.
"Then when Nesta had a proposal, I said: it's going to be independent and fact based, so would it help us in our thinking to do something and is it the right thing to do – and the conclusion was yes."
"This is such an important issue if you look at all the stats, where customers are, where our colleagues and communities are, making healthier choices, when I speak to anyone in the business it fits with our aim, to make it easier for shoppers. You look at all the research, that's what shoppers want."
Both Comerford and Harper admit there are "differences of opinion" between Nesta's calls for mandatory targets and the DHSC plans for a voluntary system, though both are likely to be based on the nutrient profiling model.
The voluntary nature of the proposals has already seen some NGO's refuse to even take part in talks over the scheme.
But rather than worry over whether the proposals are mandatory or voluntary, the most important thing to ensure, adds Comerford, is that the work is
"evidence based because you need clarity on what you want to achieve and how you review and track it.
"The difficulty is without clarity in how you measure it and review it, how do you know if you've achieved anything.
"The mandatory piece might create a few questions, but I say it's just good practice to create a level playing field. It is bound to create a conversation with branded players but that's fine and good," adds Comerford. "We're coming at it from a shared agenda and if you look at it across the retailers, they've done a lot of good work."
Comerford describes Nesta as providing "credible and very independent" proposals that the industry can rally behind.
With obesity rates doubling in the UK since 1990, the government has been criticised for backtracks on measures proposed under Boris Johnson for a crackdown on HFSS foods.
With its ban on multibuy deals, including bogofs, as well as a clampdown on HFSS ads on TV and online shelved until after the next election, at least, all eyes have been on Labour to see what it would do if it came to power.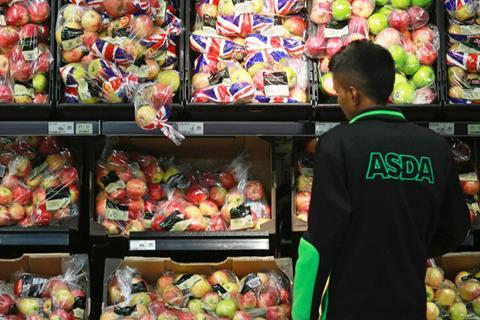 Whilst Harper's old unit was set up under David Cameron, he admits it is Labour's emphasis on "prevention" which Nesta calls for from new supermarket targets that aligns closest with most of today's political parties.
At the conference shadow public health minister Preet Gill indicated the party was willing to take a far more "interventionist" approach on obesity accusing ministers of an "unwillingness to lead."
"For this to work it needs to be mandatory and those noises that are coming out of those discussions are that the DHSC is veering more on the voluntary side," says Harper, who adds that Nesta is also working on proposals for how mandatory targets can be set for the out of home sector, to avoid the trap of unfairly singling out only the supermarket sector.
Its friendly reception from Labour and support from the likes of Asda has given Nesta confidence that it can become a powerful force in the future on public health policy, following years of U-turns and backtracks under the Conservatives.
Yet Labour itself is yet to fully show its hand, other sources are quick to point out.
"Labour has said it will go ahead with the ban on HFSS advertising, but we've not had the same commitment with other policies," says one source. "In fact, we heard directly from Wes Streeting (shadow health secretary) at the conference, who was very explicit he wouldn't ban HFSS price promotions whilst we were in a cost of living crisis."
As health campaigners and politicians have found in recent years, policies have tried to nudge consumers and companies towards healthier products, but economic turmoil and lack of political appetite has had a terrible habit of getting in the way.