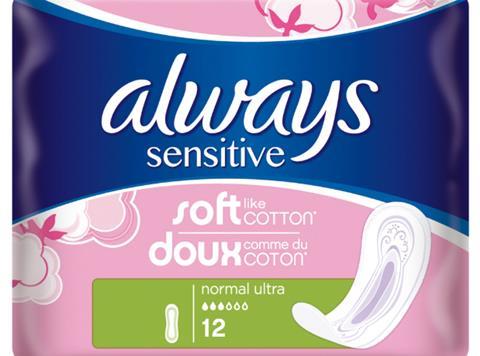 Procter & Gamble has given its Always Soft & Fit range a new name and a refreshed look to highlight the brand's 'cotton-like comfort'.

Now known as Always Sensitive, the feminine care line-up's revamped identity is aimed at "a new generation of girls", according to P&G, with emphasis on the product's "extra-soft non-woven top-sheet, soothing lotion for skin protection and undisputed protection reassurance".

A campaign supporting the relaunch is set to be targeted at women aged 16-24 years and include YouTube, Facebook and Instagram advertising up until November, before extending to national TV spots during the first three months of 2017.

"We're really excited to be executing a campaign so closely linked to the everyday online habits of our target audience," said Ania Bielecka, P&G's communications manager for feminine care. "Their high usage of social media means our partnership with YouTube, Facebook and Instagram is a natural fit for the brand."

Always Sensitive is available in four variants: Normal, Normal Wings, Long Wings, and Night (rsp: £1.55).