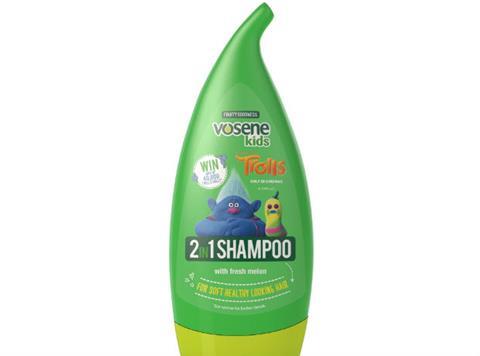 Vosene Kids has announced a promotional deal with DreamWorks Animation for the studio's forthcoming movie, Trolls.
Running from this month until February, the tie-up marks the haircare brand's 'biggest ever' partnership activity, and centres on an on-pack giveaway of 40,000 mini Trolls dolls.
Products across Vosene Kids' Squeaky Clean and Fruity Goodness ranges come in 'Trolls-style' packaging and feature a scratch-off panel hiding a unique code, which must be entered into the brand's website for a chance to win.
The campaign for the film – scheduled for release on 4 November – is also set to feature an educational strand via an interactive game on the Vosene Kids site. A 'shampoo challenge' will aim to help children learn how easy it can be to wash their hair, with the movie characters providing tips.
"This is the first promotional partnership of this kind and scale for Vosene Kids and we believe Trolls is a great fit for Vosene Kids," said senior marketing manager Morgane Salin. "We are looking forward to delivering a creative and integrative communications campaign, while raising awareness of the importance of the children's haircare category."