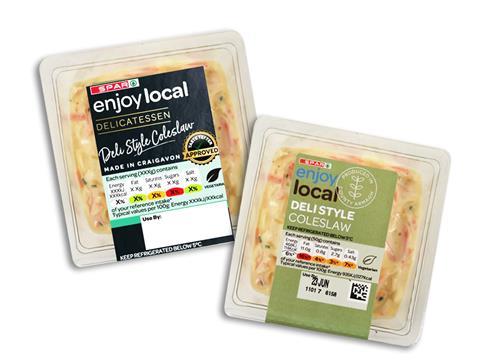 Northern Irish Spar wholesaler Henderson Group is ramping up its local sourcing credentials with new "hyper local" packaging.

Henderson is overhauling packaging across its 140-strong Enjoy Local own-label range to give shoppers even greater detail of where the products are from.

It is also adding a dozen new lines to the range as part of its regular NPD review.

The fully revamped range will be available in Spar stores across the Province from September.

Developed by Henderson, Enjoy Local's Northern Irish sourced products span core categories including fresh meat, fruit & veg, dairy and baked goods.

"We're redeveloping Enjoy Local further to create a more uniform appearance," said sales and marketing director Paddy Doody.

"The idea is to communicate that our Enjoy Local products are higher quality than the other supermarket mid-tier or mid-tier-plus products."

The new packaging will reflect a "hyper local" provenance, by town rather than county as previously listed. It now features straplines such as 'bottled in Ballymena' and 'baked in Belfast' to drive home the provenance message. The region of origin is written with a bold white font on brightly coloured backgrounds to make provenance stand out.

Previously, the provenance was listed on the product but was barely noticeable with a pale white logo which customers could easily miss.

Henderson is also including a "taste tester approved" logo on the majority of new packaging to underline premium product quality.

This comes after Henderson launched a new round of taste testing at the University of Ulster in January in its largest collaborative project to date. It has now taste tested 98 products, with further taste tests for the remaining products taking place in September.

While a varied colour palette remains, black packaging will be rolled out to flag up its more premium products to customers.

A soft launch to test customer reaction to the provenance drive took place last week with its Enjoy Local deli lines including pasta salad, potato salad and coleslaw.

Henderson has also conducted extensive customer research which found that packaging for the range appeared plain and dated. Enjoy Local was first launched over three years ago, in April 2015.

The rebrand is designed to tap a growing demand for locally sourced produce. As part of the research, consumers added they were particularly keen to buy local produce across bread, meat and fresh fruit & veg lines, with up to 87% of customers saying they'd prefer locally sourced chicken.

This follows Henderson's development of its 39-strong own-label ready meals range The Kitchen earlier this year, which carries the strapline "Great Food Made Locally" to drive up awareness of provenance.

"There is a real desire to support local," said Henderson Group MD Martin Agnew.

Over the past two months, Henderson has also updated its Eurospar website with profiles on its butchers and suppliers for the Enjoy Local range.