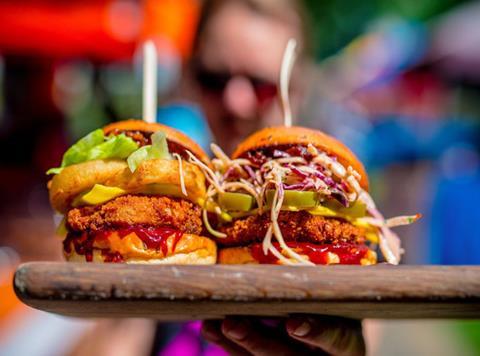 Vegan junk food producer Biff's Jack Shack will join Eat 17's Walthamstow store this month.

Takeaway food including fried jackfruit burgers and 'chicken wings' featuring a sugarcane 'bone' will be among the offering alongside chips, relishes and toppings such as home-blended vegan 'bacun jam', maple chipotle hot sauce and southern slaw, Eat 17 said.

Self-proclaimed junk food maker Biff's was established after co-founder Biff Burrows struggled to find alternatives to "boring bean burgers" when he turned 100% vegan.
He began experimenting with ingredients including jackfruit, a Southeast Asian fruit, and started trading from a van in May 2017 with partner Christa Bloom before opening a permanent store at Boxpark in Shoreditch in October last year.

"We're so excited to be joining the Eat 17 crew in their original home," said co-founder Bloom. "We believe that everyone deserves banging vegan food in their lives and we believe that Walthamstow is going to be the new hot spot for plant-based eating this year."

Chris O'Connor, co-founder of Eat 17, said: "We're thrilled to be working with Biff's. They are such an exciting business and the burgers and wings are delicious."

Eat 17 was launched in 2006 by O'Connor and his step-brother James Brundle. The company also has stores in Hackney, Hammersmith and Bishop's Stortford, and plans to open a fifth site in Leytonstone later this year.

The Bishop's Stortford site includes an in-store street food market, which the business claims is a first for the UK, and which it has since replicated in the Hammersmith store which opened in August 2018.