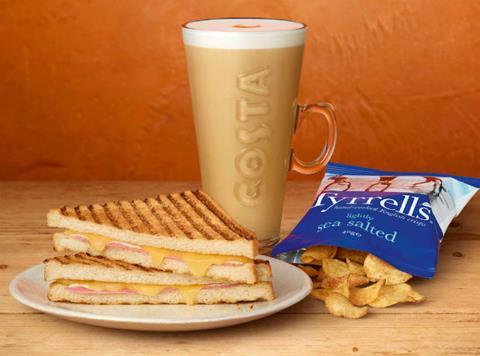 Costa Coffee is trialling its first ever meal deal at over 1,500 UK stores as it seeks to grab a slice of the lunchtime market.

The new coffee-plus menu offers a toastie, snack and hot drink for less than £5.

Customers can choose between a ham and cheese toastie or cheese and onion toastie, pick a snack from a range of selected crisps, popcorn & fresh fruit, and order a premio or medio hot drink for just £4.95 between 11am and 2pm.

"We're delighted to be able to offer a meal deal like no other at Costa Coffee, taking the classic meal deal to the next level with the inclusion of a hot drink," said Costa Coffee commercial marketing director Eric Tavoukdjian.

"We believe it's important to reward our loyal customers with great quality and value and we're looking to further build on this value offering."

This comes as Costa Coffee seeks to reverse its flagging fortunes. In January, parent company Whitbread reported that like-for-like sales at company-owned Costa outlets in the UK fell by 1.5%, while Costa's total like-for-like sales fell by 0.1% for the financial year ending 30 November 2017.

Starbucks launched a meal deal across 60 London stores in November last year, which offered customers the choice of a panini, sandwich or hot wrap, a snack of either Kettle chips or a banana, and a 500ml bottle of still or sparkling water. The deal excluded coffee.