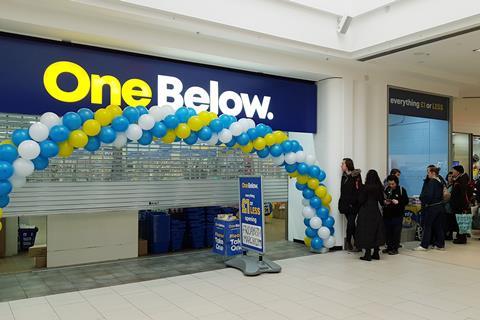 Variety discounter One Below sees major opportunity for expansion in the growing number of empty stores across the UK, the business has said in its annual accounts.
The chain, founded by the father and son businessmen that built Poundworld, Chris Edwards Sr and Jr, is also negotiating better terms with landlords whenever leases come up for renewal, according to the accounts.
It comes after property agents recently told The Grocer the wave of retailers entering CVAs this year had put variety discounters in a position to "dictate" terms to landlords.
One Below opened its first store in March 2019, selling everything for £1 or less. The business made an operating loss of £1.1m in the 12 months to 31 January 2020. Turnover was £45.9m.
The loss was expected due to the initial set-up costs, according to the accounts. It meant operating at a loss until the first 40 stores had been opened. A target of 60 stores in the first year was achieved by November.
"We continue to review and monitor the retail estate, ensuring quality over quantity is selected when looking at potential new stores," the accounts said. "The directors believe there is significant opportunity to expand the number of stores in the future especially with the number of retail units becoming available.
"This, as well as ensuring that when any lease is up for renewal we are successful in negotiating rent and giving opportunity to improve operating margin. The continual monitoring of current stores ensures no stores are loss-making or underperforming."
Trading in the current period to 31 January 2021 had been very good despite coronavirus restrictions and the business was on course to recover losses and add to reserves, the accounts added.
Steps taken during lockdown in spring had included the temporary closure of a "small percentage" of stores because of reduced footfall, and the furloughing of both retail and head office staff.
Supplier payments were also temporarily extended and temporary rent reductions sought from landlords, while the company benefited from business rates relief and government grants, according to the accounts.
"The business will continue with its growth plans to open more stores, ensuring the store is the right fit to deliver profitability to our current portfolio," the accounts said.
There are currently 65 stores listed on One Below's website.