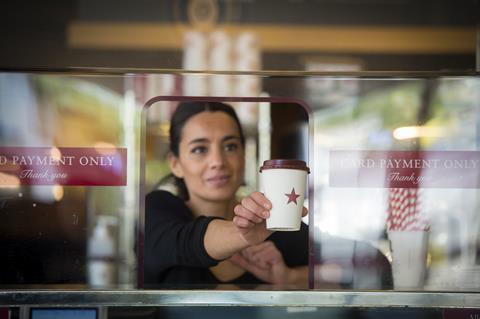 Pret a Manger is set to open a further 204 shops for takeaway and delivery next week as the UK slowly eases out of lockdown.
Shops will reopen for the first time in towns and cities such as Bath, Bournemouth, Newcastle, Exeter and Liverpool.
It will bring the total number of reopened sites to more than 300 following temporarily closures in March as a result of the coronavirus outbreak.
Pret is offering a limited menu of sandwiches and salads, as well as hot and cold drinks, bakery items, fruit and snacks.
"One of the best things about Pret is the way our teams rise to new challenges and that's exactly what we've seen over the past few weeks," said CEO Pano Christou.
"We're rapidly transforming our business in light of the pandemic and the dramatic drop in city centre footfall. The changes we've been making include new ways to serve customers and bring Pret's products to our customers' homes safely. It's going to continue to be tough for Pret in the months ahead, and I'd like to thank our team members who are returning to work and making reopening possible."
Pret has been forced to adapt the business to continue to reach consumers because of the pandemic and subsequent lockdown.
Earlier this month, the chain launched its first retail coffee range, including three organic coffee products on Amazon UK and in Pret shops. Customers can also buy a new 'Heat Me at Home' macaroni cheese range and a selection of 'Heat Me at Home' soups.
Pret has also expanded its delivery operation by partnering with Deliveroo, Just Eat and Uber Eats.
Pret shops will be reopening in London and across the UK, including in Bath, Birmingham, Bournemouth, Brighton, Cambridge, Chelmsford, Cheltenham, Edinburgh, Exeter, Glasgow, Leeds, Liverpool, Manchester, Milton Keynes, Newcastle, Norwich, Nottingham, Oxford, Reading, St Andrews, Stains, Surrey, Warwick, Watford, West Sussex, Winchester, Windsor and York.
As part of the phased reopening, the company has introduced several new safety measures in line with government guidance. These include:
Protective Perspex screens fitted to the till counter
Restricted customer flow into shops
Social distancing restrictions in kitchens
Enhanced cleaning processes.