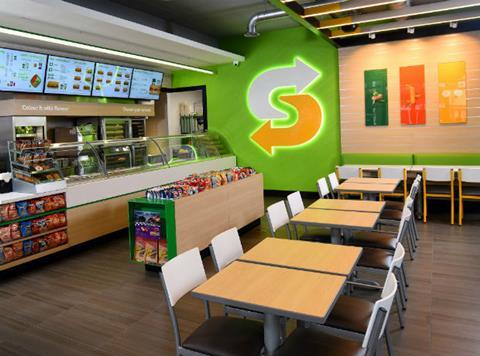 Subway opened its 2,500th store today in Keynsham near Bristol with its new Fresh Forward design.

It is only the second Subway store in the UK to pilot the new format, which was first launched worldwide in Manchester in March.

The focal point of the design overhaul is a revamped display for its fresh vegetables and a bright new colour palette as the brand plays up its salad range. Technological updates include digital menus and free to use charging ports.

This new branch will create seven full-time and two part-time jobs. It follows the company's commitment earlier this year to grow the number of UK and Irish stores to 3,000 by 2020, generating about 5,000 new jobs.

Owners Stephen and Sue Pasco also operate 15 other Subway outlets, employing 145 people across Somerset, Bristol, Gloucester and Wiltshire. Their son Ryan Pasco recently joined the development team of their family franchise.

"We're hugely proud to be able to open the brand's 2,500th store and that it is one of the first UK stores featuring the new look design. The modern design will offer customers more of what they love about Subway stores - highlighting our bread baked in store daily, cookies and some of our veggies in modern displays - whilst offering great value and fresh, varied menu options." said Sue Pasco.

Subway's Fresh Forward design is expected to be rolled out across eight UK locations by Christmas, with all existing stores to be renovated over the next few years.